OPINION: Austin Rodeo is just simply not worth it
One of Austin's most popular spring break events, which also happens to be its largest carnival, is Rodeo Austin. From March 10 to 25, Rodeo Austin hosted multiple events and attractions for an action-packed spring break. They had a carnival that hosted over 80 different rides and games for children and adults. On select days, they also had live music, ranging from country music to Mexican singer Ramon Ayala. And of course, since it is in Texas, Rodeo Austin hosts ProRodeos: mutton bustin, team roping, bull riding and other competitions. 
As an Austin native, I loved going to this event because it was always very fun for me, and I was always able to stuff my face with a multitude of deep fried foods. However personally, I dislike any activity or sport that involves an animal being chased or anything involving a rope with an animal. This is why I stuck with the carnival, as it brought me enjoyment, and I didn't have to constantly tell myself that I hoped the animals were not hurt. 
Three years post-pandemic, I was ecstatic to be able to finally go back to the fun-filled place where I have countless fond memories. I went to see if purchasing tickets online was an option, especially since one of my main complaints about the rodeo was that there were only four ticket booths, which led to waiting in the longest lines. After the pandemic, and I assume  multiple complaints of the extremely long ticket lines, they finally had an option to buy them online and skip the line when you got there.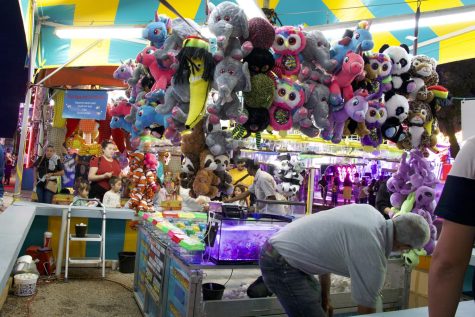 The unlimited ride wristband was $40, plus an additional $10 for fairgrounds admission. Of course, we can't forget about parking, which was another $15. While the online ticket purchasing option sounds wonderful to avoid those long lines, they don't mention that there are service fees aside from state taxes. I already felt iffy about paying so much for the wristband for rides and admission that I figured I would ask if someone could drop me off to save myself the $15 parking fee. Another thing I did to try and avoid spending so much more than I already had was to eat a big meal in the morning to ensure I would not get hungry while at Rodeo Austin. 
When I was finally inside the carnival area, I noticed that it wasn't very busy. I couldn't help but wonder if it was due to the increase in pricing. The sun was still present overhead, and it allowed me to see the extreme rust on multiple rides. The rides at these carnivals always feel janky and unsafe, especially considering how quickly they are able to assemble and disassemble them. I usually never ride any rides that are tall or go upside down, for fear that the ride could malfunction or that the ride attendants wouldn't properly ensure we were buckled in safely. This year, I decided to go on one that went upside down called the AirMax, and just as with every other ride, the attendant only slightly pulled my seat buckle to ensure my safety and pushed down on the chest restraints with one hand. I had to ask for him to please check again, since it was my first time riding an upside down ride. Despite asking politely and being apologetic for asking, he had an annoyed look on his face while checking again. Unfortunately, all the rides I got on that night felt janky and unsafe.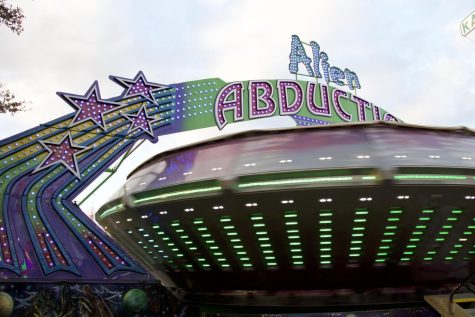 On one ride, Alien Abduction, the ride spins as an attendant sits in a designated area in the middle and controls the ride. Guests stand against these padded mats across the diamond-shaped ride. At a certain point during the ride, the padded matts began to slide up. When I got on this ride, I noticed a younger girl with her mother and what I can assume to be siblings. She looked scared and anxious, but her mother kept trying to cheer her up and held her hand the whole time. As the ride began, the little girl closed her eyes tightly, and when I looked again, I saw her mother looking over at her and trying to lift her head up against the spinning force. Then, she waved to the attendant. The attendant was not looking anywhere but down at his cellphone, and I noticed this and began to yell to try and get his attention, which three other people began to do as well. After multiple failed attempts, he finally looked up and nonchalantly pressed a button that began slowing down the ride. When the ride ended, the mother quickly carried her daughter down, and the little girl was aggressively puking.
With how pricey Rodeo Austin has gotten recently, I can't justify the price I spent overall for the rides that they offer. There are smaller carnivals that occur around Austin at different times during the year that may not have as many rides, but they're not as pricey. Not to mention that the food options at the rodeo are also super expensive. I paid $18 for a stuffed slice of pizza despite fighting off the urge to spend more money. A water bottle cost me $6, which I also regretted after looking back at the total that I spent that day. While I do have wonderful memories from my childhood here, I can't imagine how much a family with young children would spend, especially when taking into consideration the minimal rides they offer for younger children. There are also obvious safety measures that are not being followed or properly taken care of. Based on these two things, I would not recommend Rodeo Austin for locals or families. The price is just too high for what you get. 
View Comments (2)