Eat, Pray, Love: A bar without booze
Minutes away from Austin's Sixth Street, an area well-known for its drinking culture, sits a local bar with one distinctive difference – no alcohol.
"I noticed that people were really struggling to find connection and community outside of the clinical world," former substance use counselor Chris Marshall said. "I just knew that I couldn't continue to watch people die because they were lonely and they had to pick between being lonely or alcohol-free."
So Marshall created another option in 2017: a place where people could be social and alcohol-free at the same time. A place called Sans Bar.
Walking into this bar-not-bar was like walking into a friend's apartment. Roughly a dozen people were scattered around the cozy couches and dark-wooden tables. They had drinks in their hands and spoke in low tones. Soon enough, patrons were getting up on a small stage to sing karaoke. It reminded me of a kickback, oddly enough. But a few things set the place apart from your ordinary kickback. For instance, the room was larger than any Austin apartment that I've ever seen – with a karaoke stage to boot – and more than half of the people there appeared over the age of 25.
"It's hard to meet sober people in Austin and just in general," Allison Cole, a sober 32-year-old woman and frequent customer of Sans Bar, said. "There aren't very many places where you can go and hang out and socialize and be sober."
With fun drink names like "I Like It I Lovett" and glass bottles placed on shelves behind the bar, it's unexpected that you'd find only alcohol-free spirits and mocktail options on the menu. There's even an option to drink the entire night for $25 per guest.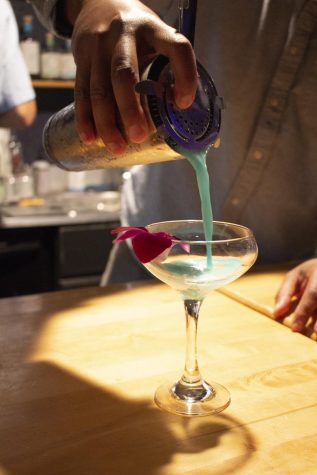 I've ordered mocktails before, though none of them have been very good. The drinks here fall on the end of higher quality. 
After trying the "Sansgarita," the sober sister-drink of a classic margarita, it is the drink that I'd recommend everyone try at least once. It uses zero-proof tequila, meaning the flavor of the spirit is still in the drink without the effects of the alcohol.
My personal favorite was the "Sanshattan." Granted, it was the most expensive drink on the menu, costing $12, and contained alcohol, albeit less than 0.5%. As someone who favors darker liquors and grew up sneaking sips of Manhattans, I have to say that the flavors are on par with the alcohol-filled original. 
I'd be wary of the fan-favorite "I Like It I Lovett," a mocktail made of ginger beer, lime and rosemary syrup, for it had an overpowering ginger flavor. But when balanced right, it tasted refreshing with a subtle herbal aftertaste.
The "Nada Colada" was, by far, the sweetest drink we ordered. Made with blue curacao, coconut and pineapple juice, this drink was a creamy, light blue with a tropical flavor. It was possibly my least favorite but would probably satisfy anyone's sweet tooth.
Knowing how big bar culture and drinking is in Austin, it surprised me to hear of an alcohol-free spot. If you're ever feeling sober-curious or want to know what alcohol-free tastes like, then Sans Bar on East 12th is the place to be.
Leave a Comment
About the Contributor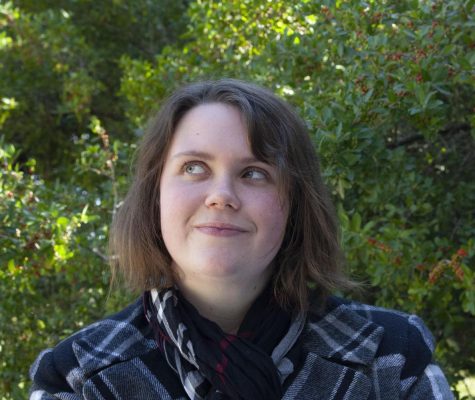 Melissa Gunning, Sports Editor
Melissa Gunning is graduating this December with a degree in psychology, minor in writing and rhetoric and certificate in evidence-based addiction counseling....