Is there anything more fun than seafood happy hour on a Sunday afternoon? For me, there really isn't. 
Este, set to celebrate its first birthday on Oct. 3, is a seafood restaurant in East Austin that truly hits the spot. I went during happy hour from 3 to 5 p.m. to try and get some deals, and while it was delicious, it was a little pricey. But once you taste the food, the cost is justifiable.
Our server started us off with corn tostadas served with the house salsas. The oysters were $1 off during happy hour which made them $3 each. These aren't the cheapest happy hour oysters you might find in Austin, but they're definitely worth a try. They were light and salty as you'd expect, but when you add the traditional Mexican sauces the flavors truly pop. Three sauces were served with the oysters: salsa Negra (similar to a soy sauce), a fresno hot sauce, and a chiltepín mignonette (a shallot and vinegar sauce).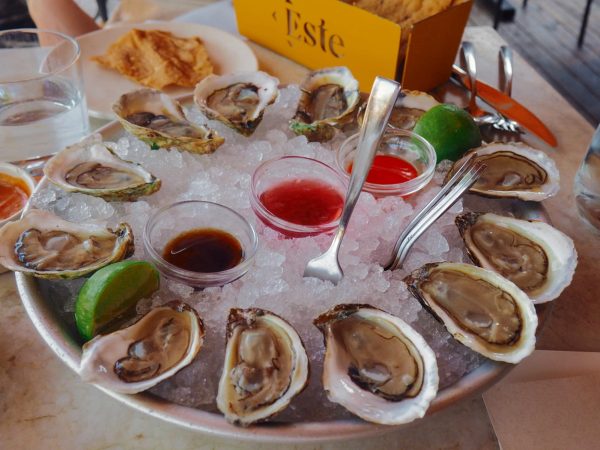 The "Este ceviche", which wasn't on the happy hour menu, was also absolutely worth the price. It's a colorful mixture of rockfish, avocado, carrot-pepper salpicon and chile oil for $24. The contrast between the bright citrus and smooth chile oil was perfect, and left us wanting to drink the leftover sauce straight from the bowl. 
Our last dish from the happy hour menu was the fish tacos. The swordfish was lightly fried with masa batter and served with shredded cabbage, habanero-piquín hot sauce and salsa Mexicana. When you take a bite the fish melts in your mouth. For happy hour, the tacos were $5 off making them only $14.
Este is a hyper-local restaurant. An integrated vegetable garden adjacent from the property serves as a space from which the restaurant can source its own food.  
"Mainly it's herbs, chiles and melons," general manager Ana Sanchez said. "We don't grow all of the produce we use, but most of it we try and use here. Our sister restaurant, Suerte, also gets a lot of their produce from the garden."
The garden is also a popular spot for members of the community to volunteer. Since its inception, community members have been excited to give back to the city and local restaurants by volunteering their time to work in the garden.
Este was opened by Sam Hellman-Mass and Fermín Núñez following the success of their first Austin restaurant, Suerte. Este was created with the goal of minimizing the distance which food has to travel before reaching your plate. 
Lyle Markman, a manager at Este, spoke more about how the garden is incorporated into the meals. 
"We rely on the gardens as much as possible and source a lot of our produce and proteins from local purveyors and vendors," Markman said. "The seafood, of course, travels a little bit further, but we work very closely with our seafood vendors to make sure we are getting the freshest seafood we possibly can. We do a lot of quality testing in house to make sure everything is up to the highest standard we can hold ourselves to."
It's clear Este cares about the quality of food they are serving. While it may be expensive, you get what you pay for. If you are the type to try out new happy hour spots, try volunteering at a garden, or are simply a seafood lover, I definitely recommend checking out Este.