Eat, Pray, Love: Seoulju is your next hidden go-to spot
"Yeah, I've been to this area before, but I never knew it existed," Rogelio said to me as I drove through the bumpy and rugged road. I smiled in excitement, the people I bring here always say the same thing. You know that feeling when you have a favorite place or food item you absolutely love, and whenever you show another person, you get antsy to see their reaction to it? Well, that is quite possibly my favorite feeling when I bring people to Seoulju.
Seoulju Kitchen & Bar is a Korean restaurant that specializes in comfort food and Korean fried chicken. Their only location is off North Lamar, in the corner of the Northwend shopping center. They are open from Thursday to Sunday, so guests can go and enjoy a late-night comfort meal. The restaurant is owned by John Lee, who calls Seoulju his "second home." Lee and his mother, Sang Mi Kang, run the restaurant and enjoy being present during their operating hours.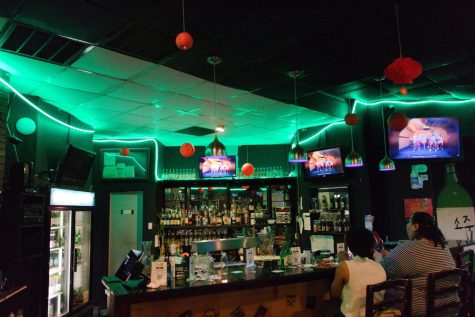 I would like to mention the one con about Seoulju is their wait times. We planned to arrive as soon as they opened so we could be one of the first names on the Yelp iPad you sign in with. Unfortunately, our 7:38 p.m. arrival had us waiting for 1 hour and 10 minutes. The menu is accessible through a QR code on the table, where you order your food and pay your bill. 
I ordered Korean fried chicken nuggets and cheese fondue. The dish is priced at $26 before tax, which I will always stand by as one of the best dishes that never fails to make my taste buds happy. The dish came out in a large circular skillet with a portable gas stove underneath. We both smiled as the smell of the delicious soy-garlic-coated fried chicken surrounded us. I watched the shredded cheese turn from singular shreds into a beautiful orange and white gooey blend.
"You have to mix the corn and cheese together," I said to Rogelio as I swirled my chopstick underneath the cheese to lay on the yellow corn. Rogelio's first bite with a bit of everything left him nodding and wanting more. "It's really good."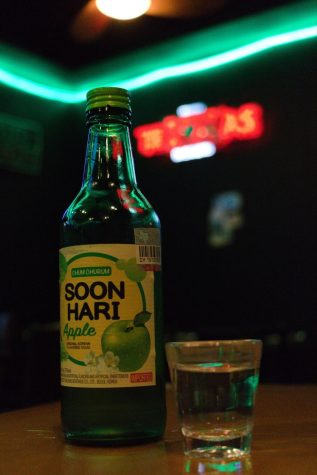 As we were indulging in our phenomenal meal, Lee approached us and asked us how we were doing and if he could get anything else for us. Typical behavior from an owner: wanting to make sure his guests enjoy themselves in his restaurant. Not typical of an owner is that after a couple of minutes, he came back and verified that we were 21, and he then brought forward a bottle of green apple soju and two shot glasses. Lee made a toast to us and then sat and talked with us about how proud he was of the restaurant and how his main goal was to ensure his guests had the best time in his second home. He abruptly paused our conversation and left the table, returning with a woman. 
"This is my mom," he said. "The head chef and the most badass woman." She smiled big as her son introduced us.
To finish our amazing dinner at Seoulju, Lee taught me the traditional Korean way of pouring a shot. He told me that since he is the elder, he pours the Soju with one hand, and I hold my shot glass with one hand and the other underneath, supporting my wrist. I watch as he pours the clear liquid, careful not to overflow. He tells me that we both must say "Geonbae" simultaneously: the Korean way of saying cheers!
Seolju serves delicious and filling dishes that will leave you feeling happily full. They offer a wide range of dishes, from popular Korean fried chicken fondue to hotpots. Whether you are looking for a new place to eat with your friends or a fun date spot, Seoulju will leave any person satisfied with their visit. To find out more information about Seoulju, follow their social media @Seouljuatx.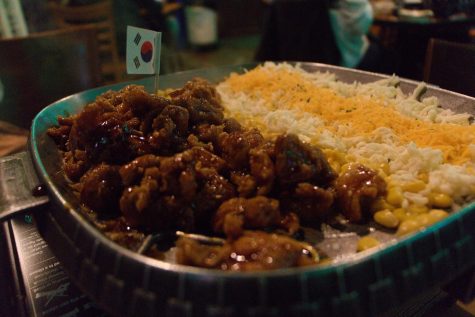 Leave a Comment