A sea of blue and gold jumped and shouted as the St. Edward's Hilltoppers took to the basketball court at their exhibition game against the University of Texas Longhorns on Oct. 30. Students and alumni showed up in their best blues to support their home team.  
Fans trickled into the stands donned in their Hilltopper pride: wearing school merchandise, sporting face paint, flashing rally towels and waving pom poms. The Moody Center, home to the Longhorns, got a taste of what SEU can bring to the table.
Even with students showing up and showing out, they were still skeptical of SEU's ability to play well against the UT team. The Longhorns are coming off of an Elite Eight appearance from the 2022-2023 season.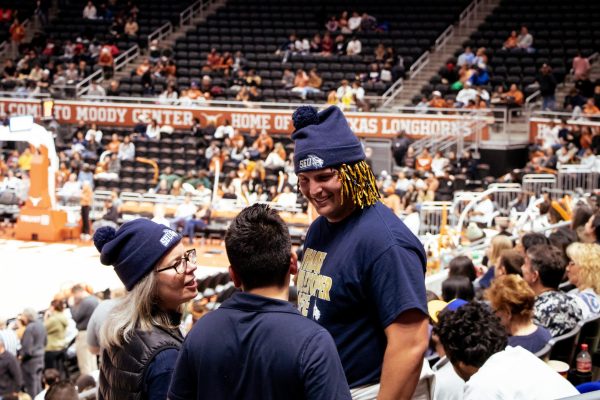 "I really felt like we didn't have a chance because I heard a lot of good things about the UT team, but I had never watched our basketball team so I didn't know what to expect. It felt really nice to go 'oh we do have a good basketball program'" junior Cindy Cuellar said.
During the first half, the Hilltoppers put up a good fight against the Longhorns, so fans couldn't catch a break. Between cheering and standing, no one was sticking to their seats, as the ball flew up and down the orange and white court.
The aisles never cleared as students, faculty and alumni mixed and mingled throughout the game.
Students showed off their school spirit in different ways. A few students got the crowds going by starting fun chants for the student section to yell to make the Longhorns fear the goat.
"I showed all the school spirit," Student Government Association senator Max Hoelker said. "I got there and I sat down, and it reminded me of all my old high school games and so I just decided to start leading chants with people. It was really fun. Once I got into it and saw that other people were getting into it, I just got more and more into it."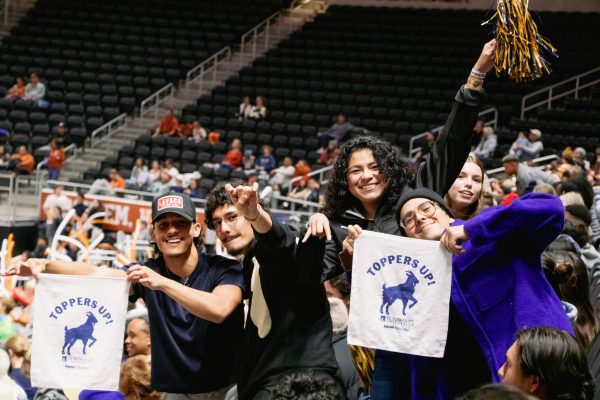 St. Edwards's seems to have low attendance at games and other SEU events. Students typically only know when an event is happening if they are personally involved in clubs or other extracurriculars on campus. 
"I think this UT exhibition game really got advertised to infinity and beyond," Hoelker said. "They went all out for advertising for the UT game. I feel like if they put posters up every once in a while, or would send out a full school blast email or something like that- They don't advertise (games) at all. They're on the (SEU Athletics) website and that's the only place I ever hear about them."
Hopefully, this game will light a fire under the athletics department's feet to get up and start selling their games more. It was a lot of fun for students to get together as a community and enjoy some great basketball. 
"It was really fun," Cuellar said. "You could actually see our school spirit. I felt that that's the most school spirit I've seen at a sports game for us because I always go to the soccer games and there's not really much (school spirit). So, it was nice seeing more people gathered to support our team."