SGA candidates promise to revitalize association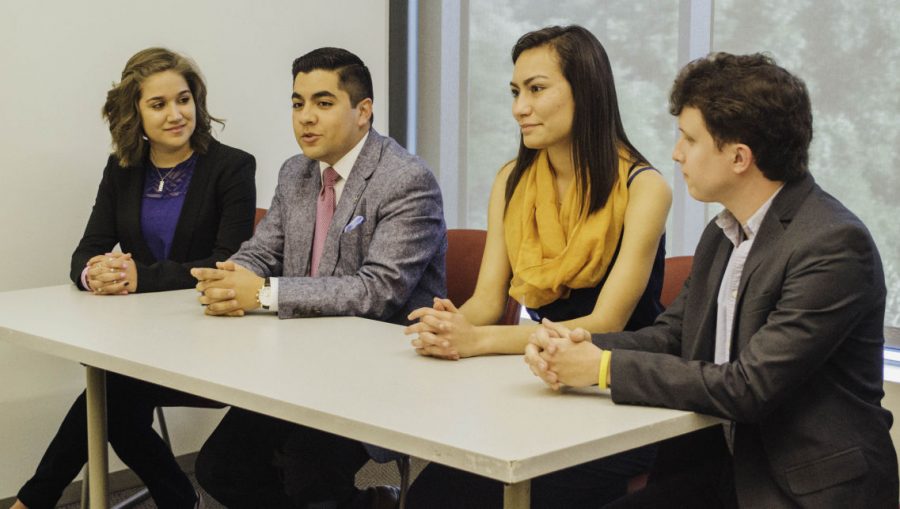 Jacob Rogers
April 11, 2016
The Student Government Association is currently holding its elections for the 2016-2017 school year. Hilltop Views invited the presidential and vice presidential candidates to a discussion on issues students are concerned about. The candidates sat down with Online Editor-in-Chief Rosemond Crown on April 6.
There are two tickets running for the top two offices in SGA this year. Sen. Jamie Cardenas is running for president and Sen. Carlos Martinez for vice president. The other ticket is Big Event Director Anna Lopez and Sen. Ben Griffith.
Decision to run
All candidates expressed interest in changing the way some parts of Student Government is run and wanting to make a difference. Lopez is the only one running who is not currently a senator.
"It's almost a privilege to be able to see things from a different perspective and a different lens, and I was able to see things that did work and things that didn't work," Lopez said.
Cardenas and Martinez wants to give back to students and make sure they are represented.
"We really want to be doing this for the students," Cardenas said.
Senate race
There are currently 11 senators running for 12 open seats in Senate. All 11 are guaranteed to win, and the future vice president will be able to appoint a new senator next semester.
"I think all of the candidates who are running for Senate are great," Cardenas said. "They represent different aspects throughout campus, which is something that we definitely would like to see in our future associations."
Martinez believes it would be good to have graduate students more represented in SGA and Lopez wants someone who isn't just "going through the motions."
"I think we need someone who is passionate," Lopez said.
SGA changes
Griffith wants to look back on what worked well and what didn't in SGA this year and in previous semesters.
"I think we need to restructure all of SGA internally," Griffith said.
Martinez echoed Griffith, adding that Vice President Jonathan Edwards is leaving a "solid foundation."
"And also Mr. Cruz has been an effective leader in certain realms and I think he too has left the association in a way that we can build upon and grow upon," Martinez said.
Accountability Codes
Each candidate expressed concern over the accountability code, but were split on if it was the right decision to abolish them. Sponsor of the bill, Griffith didn't believe the test was very reflective on performance.
"In discussing with Faith [Castillo, SGA parliamentarian], I think that this ethics code, which is being based on extensive research from other universities, needed to reflect more of the commitment aspect rather than focusing on various tasks and questions about the association."
Martinez, chief financial officer last semester didn't have to take the performance review, as outlined in the Accountability Codes. He voted yes this semester, as a senator, to get rid of the codes because he wanted to see a new code of ethics implemented, Martinez said.
"As CFO, as I was looking in, I saw just an accountability that did not reflect the Senate's actual success or actual accomplishments," Martinez said.
However, Cardenas and Lopez both expressed concerns about not having a replacement after abolishing the codes. Cardenas voted against the bill. SGA has not yet passed a new code of ethics since abolishing the old codes on Feb. 18.
"I don't know if I would have agreed if I didn't have something in my hand," Lopez said "It's like agreeing blindly and I don't agree with that as well, so I think I would have abstained."
Working 20 hours
Human Resources will be more strictly enforcing the policy of a maximum of 20 hour work weeks for students. Cardenas and Martinez are both resident assistants and cannot work other on campus jobs. However, SGA members receive scholarship.
Martinez says he would monitor the policy next semester and bring up any concerns students have. Cardenas believes the university is looking out for the best interest of students.
"It's St. Edward's policy, and so it's something that we have to go with and though people may not necessarily agree with it, it's something that's there," Cardenas said. "And there's no fighting it, it's something that, it's been set in place, just not necessarily pushed, but I think there is also purpose to it …"
Lopez and Griffith want to look at it carefully and decide how impactful it will be on different sets of students.
"If it has worked well in the past, what happened recently, that it's changed, and what are we not being told, or are we not being told enough?" Lopez said.
SGA perception
There needs to be an active outreach to students, Griffith said.
"As a transfer student … finding your niche in certain organizations, in groups is something that is very important," Griffith said. "As Student Government, we can't be concealed in the Student Life Office."
Cardenas wants her administration to be humble and make connections to different student organizations across campus.
"People see SGA as these high and mighty people who just kind of took it, again as you said, [as] a resume builder, but I think if elected, our administration would like to humble ourselves as an administration and come down to really be with the students …" Cardenas said.
Martinez would be open to moving SGA out of Student Life down the road, if the student body wants it.
"We can certainly do a lot more right now within Student Life and building that gap and being a cohesive unit within Student Life and trying that route first," Martinez said.
Success or failure?
All candidates stressed that communication was a failure on all sides this year, which boiled over during the failed impeachment of SGA President Jonathan Cruz.
"I think communication lacked on all parts and it's not just his fault, and I genuinely think [Cruz] tried his best," Lopez said. "Everyone is a leader, but not everyone is meant to lead."
Cardenas believes a simple conversation would have avoided the impeachment attempt.
"I spoke to him and he was floored. He did not see it coming and he did not understand why," Cardenas said.
Martinez said SGA has had its ups and downs, citing SGA Day as a success. He also added that it's not simple to judge SGA as either a failure or success, as there are "many factors to consider."
See the full interview with the candidates on hilltopviewsonline.com