Women's soccer clinches second seed in Heartland Conference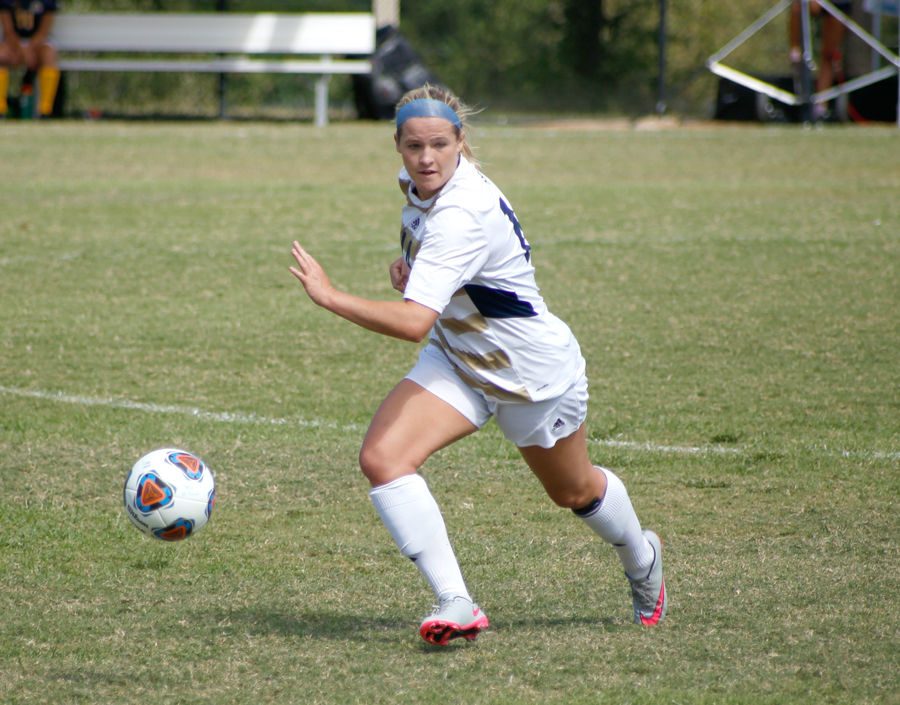 Amanda Gonzalez
November 2, 2015
As the regular season came to a close, No. 22 St. Edward's University women's soccer team is advancing to the Heartland Conference Championship Tournament.
The Hilltoppers finished their regular season second in the Heartland Conference (HC) with an overall record of 12-4 and a 6-2 HC record. That record was good enough for the second seed in the conference tournament and will compete against third seeded Lubbock Christian University in the first round of the HC Tournament on Thursday.
The winning team will play for the HC Championship against the winner of the fourth seeded St. Mary's University and the top seeded Dallas Baptist University game. Dallas and St. Edward's have either won or tied the HC regular season the past five seasons in a row. SEU lost to Dallas Baptist 2-1 on Oct. 15, but recently beat both Lubbock Christian and St. Mary's with two 2-0 shutouts.
"When we play Thursday against Lubbock, we'll definitely have to bring … defensive pressure on the other team," St. Edward's Women's Soccer Head Coach Nick Cowell said.
With a roster comprised of 46 women, "that depth in our team allows us to stay fresh throughout the game, so that we don't drop the intensity as the game goes on," Cowell said.
However, despite the team's advancement to the Championship Tournament, the last two regular season games were critical games that could have an effect on the team's current mindset.
Most recently, St. Edward's defeated St. Mary's 2-0 in a true Battle of the Saints matchup.
"Playing against St. Mary's is always a very physical game, which is what you need really to get ready for the playoffs," Cowell said. "The games are going to be close and a physical battle, so I thought it was good to have that experience, especially for the younger players, to know what a playoff atmosphere is like."
During the game against St. Mary's, St. Edward's had good control and shorter ball passes. Defensively, there were a lot of good substitutions and the forwards had a lot more shots.
"We knew we had to win. We knew we had to take all our chances," sophomore forward Elin Rosenberg Cemazar said, who scored the second goal of the game. "We wanted to win so that we would go against Lubbock. That's who we wanted as our next opponent, rather than DBU — and we accomplished that. That was our main goal, and just to bounce back from the loss last Thursday."
The loss Rosenberg Cemazar is referring to was against the conference's last-place team, Texas A&M-International University on Oct. 29. Stunned, the Hilltoppers were defeated 2-1 due to a penalty kick, a goalkeeper fluke and missed scoring opportunities.
Cowell said that the intensity level at the A&M-International game wasn't as high as against St. Mary's and other winning games this season.
"When we bring our intensity level, most teams find it pretty hard to score against us," Cowell said.