Women's soccer kicks year off on streak, high expectations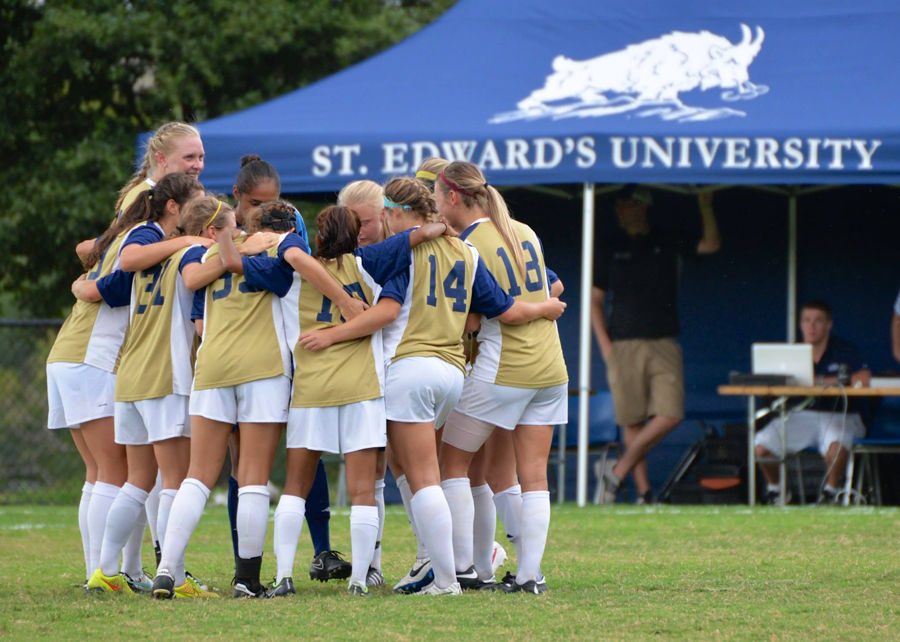 Sports Editor
September 14, 2015
The women's soccer team is off to a hot start, winning its first three games of the season. The No. 17 ranked St. Edward's University Hilltoppers are coming off a two game victorious road trip in Colorado, where they outscored their opponents 4-0.
Head Coach Nick Cowell has had his team close in the past to winning a national championship and knows just how strong the competition is.
"We aim for consistency and we know that at some stage, our consistently high performance will take us to the next level," Cowell said.
Last season, the soccer team began the season with a 4-4 record, then caught fire, winning 11 straight games, until losing in the national tournament to Colorado School of Mines. Cowell says he is big on leadership and what it provides to the team.
"This group of seniors will step up and set the standards and expectations for their teammates," Cowell said.
Cowell was referring to the fact that the team has only five seniors on the team and 22 freshman, according to the roster on the athletic's website.
The team was selected to finish first place in the Heartland Conference this year, adding more pressure to the upcoming season. St. Edward's received 13 first place votes and finished ahead of last year's runner up, Dallas Baptist University, which finished with four votes. The votes were casted by the head coaches of the conference's teams and sports information directors.
The Hilltoppers will be looking for their third straight conference championship after winning in 2013 and 2014 respectively. The expectations remain high but Cowell does not like buying into preseason predictions.
"We don't need to verbalize our goals of winning conference, making the NCAA Championships, going through the season unbeaten, keeping a high GPA and being awarded the NSCAA Team Ethics Award," Cowell said.
The team doesn't want to circle certain games during the season and concentrate on them. Cowell says his team does not have one plan that fits all teams.
"Our game is to consider all teams tough teams," he said. The next game for St. Edward's is Wednesday at 1 p.m. at the Lewis-Chen Family Field. The Hilltoppers will be taking on Western Washington University and will be going for a perfect 4-0 record for the season. The first conference game is on Oct. 1 against Oklahoma Christian University. 
Follow @Jacob_Rogers01 on Twitter!