Leib wins third straight award, leads team in shutouts, saves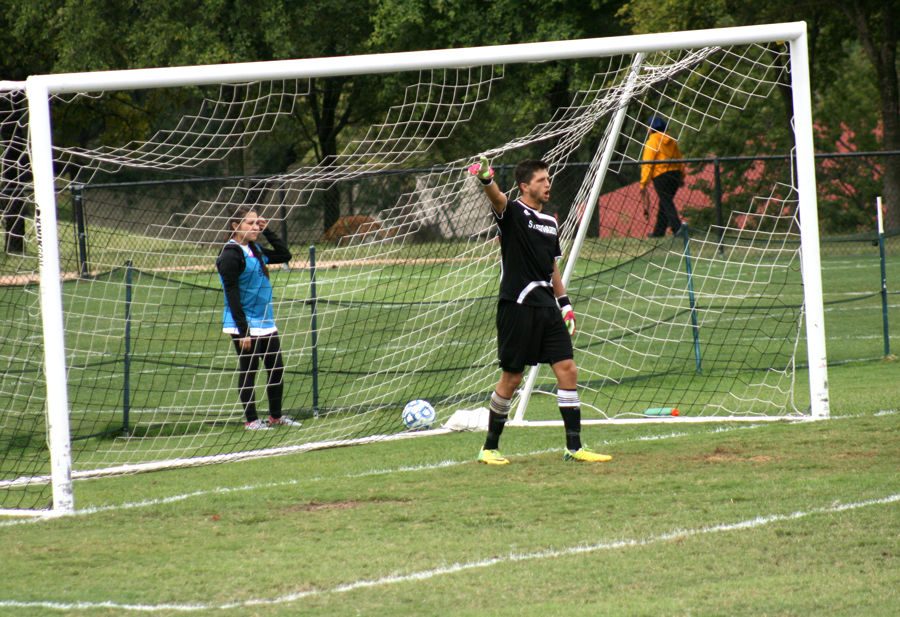 Staff Writer
October 13, 2014
St. Edward's University's men's soccer goalie Kevin Leib has been a standout player for his team, earning his third consecutive Heartland Conference Defensive Player of the Week award.
As a goalkeeper, Lieb has proven himself more than worthy of these honors with a season total of six shutouts, nine saves alone against tough regional competitor Midwestern State, helping lead the team to their current record of 9-2-1, and a perfect 4-0 in the Heartland Conference.
Leib attributes his prestigious awards to his teammates.
"The defense has done a fantastic job and they are the main reason why I have (six) shutouts," he said.
He also concluded that the award is not only his success, but one that required the whole team.
"I feel like this is more of a team award because without the handwork of every individual on the field, I don't think I could have won this award (three consecutive weeks)," he said.
His teammates share in his accomplishments this season and are equally as happy to see that the hard work Lieb put in over the summer has allowed him to step up and fill an important position that was left by their previous keeper.
"Kevin has been great for us this season; he has done exactly what has been expected from him and more," teammate Coleton Stymiest said. "I have no doubt that Kevin will continue to get the awards he has been getting and will eventually become a leader of the team in the future."
While Lieb has helped the team to make strides this season, it has been no easy task for this double finance and accounting major who is currently enrolled in 18 hours. However, while traveling for games may be taxing on all of the players, balancing school and soccer is something he has been able learn over his years as a player.
Part of this balance comes from strong preparation in the off season, which Head Coach Brian Young attests to.
"He took the summer to get himself in very good shape and has sharpened his game in several areas," Young said. "Kevin prepared himself well over the last two seasons and it is paying off for him now."
As the team looks towards the playoff season, Lieb believes his main role will be in making big saves to keep them in the game.
However, it is the guidance of the seniors who will carry their momentum forward.
"I firmly believe that the leadership of our four seniors (Coleton Stymiest, Andrew Fox, Sam Burns, Danny Riley) will play the biggest role in helping our team advance to playoffs," Lieb said.
Having an overall balanced team as well as a strong goalkeeper will only help, according to teammate Sam Burns.
"It's great for the team to have a good goalkeeper and defense, as it allows us to win more games," Burns said.