SGA public forum talks plus & minus grading system, MyHilltop, campus safety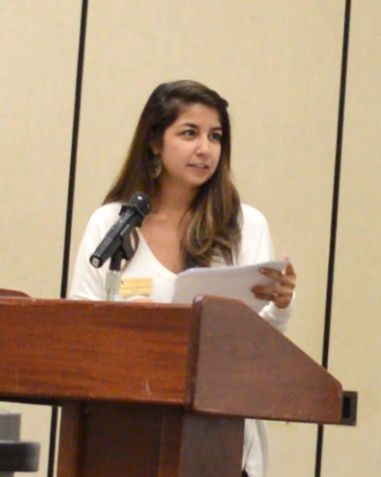 The Student Government Association (SGA) hosted the 2014 Public Forum on Oct. 20.
Under the coordination of Jacqueline Schicker, the external affairs director of SGA, the forum moderators organized the discussion of five key topics: the plus & minus grading system, MyHilltop, SGA legislation, Title IX and campus safety.
Speaking in favor of incorporating an inclusive plus/minus grading scale at St. Edward's University was Jack Green-Musselman, the director of the Center for Ethics and Leadership and associate professor of philosophy who has served on all three plus/minus committees for the past six years.
The plus/minus proposal has already been approved by SGA and the Faculty Senate and is currently being reviewed by the Graduate and Academic Councils.
Green-Musselman emphasized three advantages of the plus/minus grading system: increased grade precision for faculty, a more accurate representation of students' work ethic for graduate schools and no further potential for grade inflation.
"When you graduate with a 4.0 from St. Ed's now, graduate schools don't know if that's a 92, a 90.1, or a 95," Green-Musselman said. "If they are skeptical and have to second guess the number, then you're not getting the benefit of a straight A average. What you want is for a graduate school or employer to know that when you report a certain GPA, that's what it means."
A student then asked if the distinctions in both grading scales would be reflected on student transcripts. Upon further discussion with the Registrar's office, it was revealed that transcripts will show the difference in the grading scales on a legend located on the back of an official transcript.
Another topic that was discussed was MyHilltop.
Sophie Gairo, a student worker at the Instructional Technology Department, explained why EdWeb is being phased out and what all MyHilltop has to offer.
Due to the discontinuation of EdWeb's supporting digital company, in the next two to three years, MyHilltop will be the sole, centralized technological format for students to use.
Another project currently underway is the fully-assembled creation of a single log-in page that will log students into all the features most commonly used such as BlackBoard, MyHilltop and the St. Edward's email.
For anyone still having trouble with how to use MyHilltop, there are training tutorials available on Think, information sessions and one-on-one appointments that can be made in Moody 309.
Additionally, a registration specialist can help students during registration time in the computer lab at Moody 309.
However in regards to EdWeb, until all the technological components are implemented into MyHilltop, some features, such as unofficial transcripts, time sheets and job availability searches, are still exclusive to EdWeb.
Other topics discussed at the forum include past legislation and events.
SGA President Samantha Mendoza spoke on legislation updates, mentioning bills currently in the process of being passed.
Topper Radio in Ragsdale will serve as an outlet for students to advertise events and meetings.
The Battle of the Saints trophy is a bill in conjunction with St. Mary's SGA to add spirit by trading off a trophy after an athletic victory.
"It's On Us" is a national campaign under President Barack Obama; SGA is currently in the brainstorming process of how to raise awareness of sexual assault issues through new legislation.
Earlier in October, SGA also held its annual Campus Safety Walk with Officer Gilroy where students walked around the campus at night. While on the walk students found some broken lights that need to be fixed and overgrown trees that need to be trimmed.
Other goals of the SGA are to form a Student Judicial Review Board with the Dean of Students so students can now take part in judicial processes, and to add hammocks around campus for students to enjoy.
One of the greatest SGA successes is having several students become voter deputized. As a result of those students' efforts, 170 people were registered to vote.
A student voiced that SGA should look deeper into the procedures to have Google Fiber added on campus.
Another important topic was Title IX, which was addressed by a panel made up of two female students and two male faculty who answered questions dealing with sexual violence and sexual discrimination.
The panel included Associate Dean of Students and Title IX Investigator Steven Pinkenburg, Campus Recreation Director Andy Lemons, News Editor Raneem Ashrawi and Schicker. To read more about the Title IX panel, see page three.
Sgt. Garcia and Sgt. Delgado of the University Police Department spoke on campus safety, the final topic of the forum.
In regards to assault and dating violence, the officers said that in 2013 there were four reported incidents. They also noted that it is better to report sexual assaults sooner rather than later to preserve any evidence. If a case is reported, a student can continue to consider pressing charges, even years after an attack.
Although crime is often considered inevitable, St. Edward's is regarded as a very safe area for the size of population with very minimal criminal infractions.
However, when a concerning crime does occur, RAVE alerts are issued to inform students and staff.
The UPD officers emphasized that burglaries are crimes of opportunity which can be avoided by locking dorm/apartment doors every time a student leaves and parking in well-lit areas.
Students were also reminded by UPD that they could call for a police escort when on campus late at night.
"This is one of the safest places in Austin, staffed by 17 officers with a very quick response time to every phone call," Garcia said.
Last minute reminders from SGA included an invitation to a formal SGA senate meeting on Oct. 24 at 7 p.m. at the Mabee A Ballroom in the Ragsdale Center.
The SGA will also be hosting an Election Showcase on Oct. 29 in the Jones Auditorium where state representatives from the four major political parties in Texas will be giving reasons to vote for their political candidates currently running for Texas government positions.
In closing, SGA Vice President George Kuhle encouraged students to get involved in the legislation process.
"A lot of students always come up to SGA members and say 'This is a problem.' However, we want to hear your solutions as well," Kuhle said.
Follow Amanda for more!