Volleyball open up new season with win streak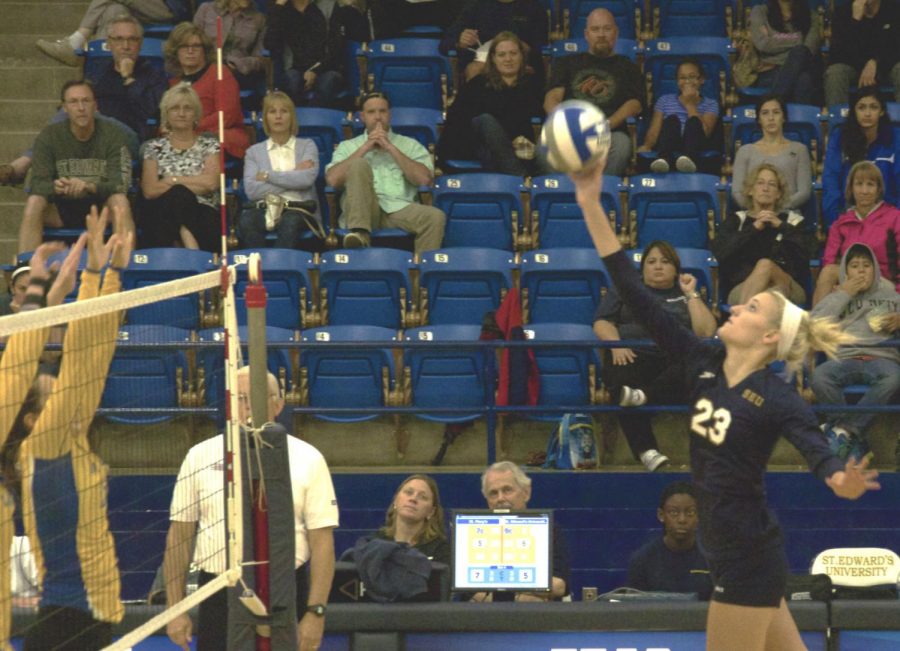 Staff Writer
September 15, 2014
The volleyball team has kicked off the 2014 season on a hot streak, going on an impressive 5-0 run.
During their great start they have managed to win every set but two. The team also went to its first tournament of the year where they won it all in the Flint Hills Resources Nanook Classic in Fairbanks, AK.
"Alaska was a great experience on and off the court," head coach Sean Donahue said.
Coming off good tournament play in Alaska, the women's volleyball team plans to continue their winning streak. However, according to a preseason poll in which the conference's head coaches voted, St. Edward's University is projected to place No. 4 in the Heartland Conference.
However, the volleyball team plans to finish much higher than No. 4. There is little reason why they cannot finish higher, considering they won their first two conference game against Texas A&M International University and rival St. Mary's University.
This volleyball team has a bunch of seniors this year, with six on the team.
This team relies on its experience and is led by seniors Loren Kelly and Kelly Jimenez. With so much leadership on one squad, the team has had no trouble getting ready for games, even making a some time to have a little fun while doing so.
"We get ready for our games by having our teammate Hannah Rauch DJ for us," Kelly said.
With a team that is having fun and is prepared, some speculate that they have a shot at winning the Heartland Conference this year.
"If we play more consistently then we should be able to win a championship," Donahue said. "In order to be successful we have to take care of our side of the court."
Another key for this team's success is how well the freshman and transfer students adjust to being on a new team. With two new freshmen, Katie Morgan and Madison McClurg, and one transfer, Avalon Frantz, these new players have the opportunity to learn a lot from the upperclassmen on the team. If they're able to gel together then they should be able to compete against their conference rivals.
"Some of our biggest games this year will be against Fort Smith, Lubbock Christian, Dallas Baptist University, and St. Mary's University," Donahue said.
The women's volleyball team looks continue their streak and to make others "Fear the Goat" this season.