Hillfest aims high with fireworks, food trucks and fun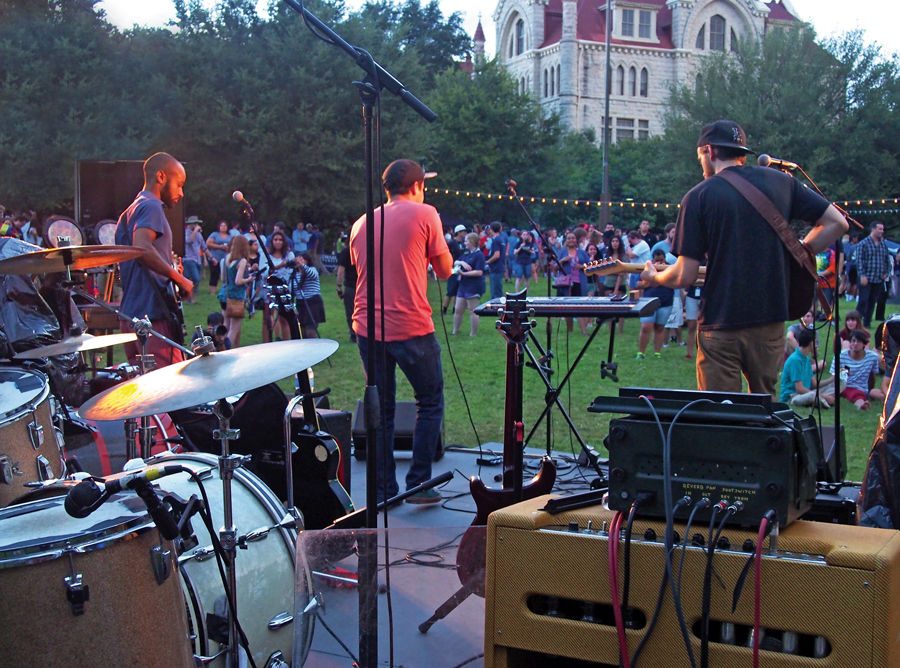 Staff Writer and Reporter
September 14, 2014
Friday Sept. 5, marked St. Edward's 13th annual Hillfest. This event, which took place on Holy Cross Lawn, was a little different than it had been in the past. This year was the first year that food was not provided free to students and other attendees, but instead was available through Topper Tender or cash purchase.
Food choices included ice cream sandwiches from Coolhaus, sandwiches and wraps from SLAB BBQ, pizza from Stony's Pizza and shaved ice from Kona Ice. The paying change was enacted to make sure that food shortage would not be an issue, as it was last year, and it received mixed reactions from students.
Junior Melissa Wilde said, "I really liked Hillfest this year. I kind of liked that we could pay for food with Topper Tender, and honestly because we're paying for the food it means that there's more of it for everyone. And this ice cream is the best stuff I've had in a very, very long time."
Senior Morgan Mays had an overall positive view of Hillfest but felt differently about the food changes.
"I liked this year. It was bigger than I thought it would be, but I just didn't like having to pay for food," Mays said.
The event was more elaborate than it had been in previous years, and it was a lot more carnival-like. Event planners tried to prepare for a larger number of students.
"Hillfest this year is going to have a lot more rides and activities than in previous years, allowing for more options for students, which in turn means less lines," senior Sebastian Roman, who was involved in the planning this year, said.
Hillfest activities included a photo booth, a Velcro wall, Euro Bungee jumping, a swing house, a bounce house, a zip line and a mechanical bull.
Three musical acts performed at the event: Zak Waters, The Bright Light Social Hour and The Pros of Con. All three bands received positive reactions from the crowd.
"I really liked all the bands that played this year, and I really liked that they had a screen behind the stage playing a live feed of Instagram pictures being posted throughout the night," senior Katie Mathias said. 
Hillfest ended with a smashing fireworks show, which took place on the soccer field. 
"We brought back the fireworks this year because we know a lot of people love them," University Programming Board executive Kendyll Severa said.
Students who attended also received a free t-shirt and water bottle, which both feature the new Topper.
Hillfest's turnout was great, and event planners are hoping that next year will be even better.
"This year there were a lot of changes, including the big Topper reveal, so it was definitely a different type of Hillfest, but we hope that it was a memorable one for everyone. If you guys have any feedback, just go to UPB's website and leave us a note. We'd love to hear any feedback, good or bad," Severa said.
Follow Samantha on Twitter @samanthdriscoll
Follow Jasmine on Twitter @_jaskim