RCC pool deck, blocks receive winter upgrade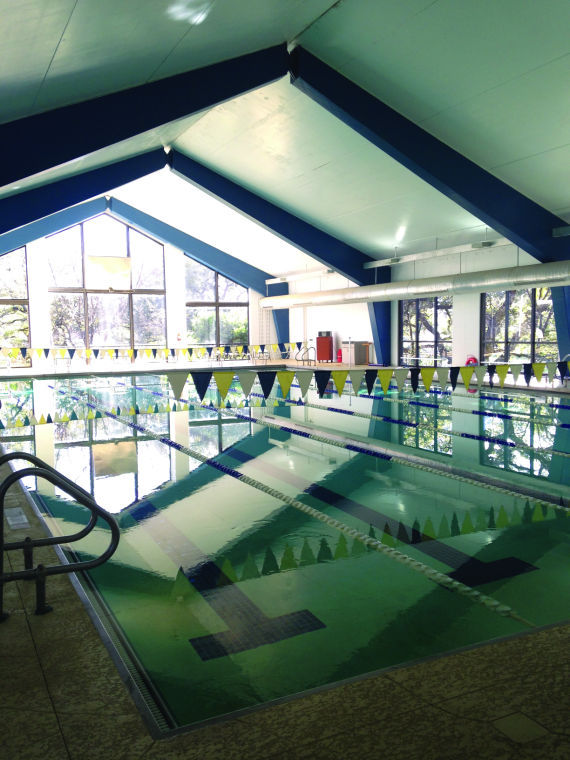 Sports Editor
March 17, 2014
The days of finding concrete dust on your feet at the pool are no more, as the natatorium deck at the Recreation and Convocation Center (RCC) was recently renovated over the winter holidays.
Despite receiving a new paint job and resurfacing on the bottom of the pool in 2009, the deck and starting blocks remained original, untouched since the construction of the RCC in 1986.
Before the arrival of Andy Lemons, director of Campus Recreation, even simple maintenance such as sweeping up dirt on the deck did not take place on a regular basis.
"If you were at the pool for an event you would get crumbled pieces of concrete on your feet, which would then end up in the pool or just feel really awkward," Lemons said. "The surface was very poor."
The university finally took action in September, when the Physical Plant contacted Campus Recreation about a special resurfacing project for the natatorium, which included new blocks.
Of the pool's six previous starting blocks, only one was actually safe to use, with the addition of gripping strips. With 30 years of wear and tear, the blocks had become bent in, slippery and loose due to cracks in the anchoring bars.
"Some of the blocks were broken and unable to be used and the others were very slippery and dangerous," Club Swimming President Katy Gillis said. "So when we hosted the St. Edward's Invitational Meet last October, we ended up just removing all six blocks and doing starts from the side of the pool."
After extensive planning and quotes from different vendors, renovations finally took place over nine days in December after the end of final exams. New anchor holes were drilled, new blocks were installed and the commercial and residential surfacing company Kool Koat put down a water resistant, non-deteriorating deck.
"I personally think it is a great improvement for the pool area," lifeguard Octavio Sanchez said. "It makes it more inviting and modern. Also, it makes it easier to keep clean."
While there are no more swim meets on campus for the rest of the semester, the improvements to the pool have already created an environment more conducive to productive practices. With the formation of the Southwestern Swim League this past summer, the St. Edward's club swim team now competes against eight other club teams from schools in Texas and Arkansas.
"The team was super excited because now they can practice their starts, which should significantly improve their ability to be successful," Lemons said.