Students gather in Ragsdale for UEFA Champions League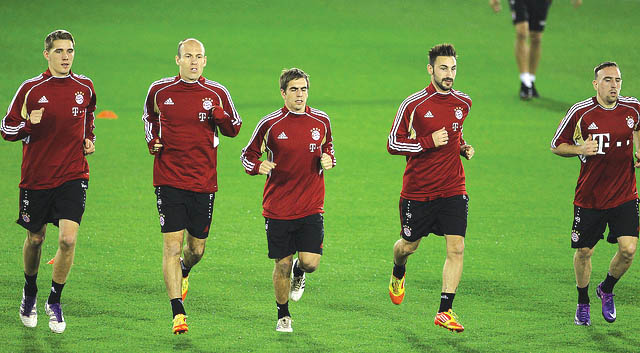 Staff Writer
February 28, 2014
Recently you may have seen, or heard, crowds congregating in the Ragsdale Center lobby around 2 p.m. on Tuesday and Wednesday afternoons. These strange gatherings can only mean one thing.
You guessed it–the Union of European Football Associations (UEFA) Champions League is upon us.
Many of the European clubs competing have a strong following at St. Edward's, with a large number being international students. Manchester United supporter Paul Drinkwater, who is originally from the United Kingdom, is one of them.
"There's always a good amount of people watching in Rags, which means a good atmosphere," Drinkwater said. "Plus it has a comfortable seating area and it's convenient to grab some food during half time."
Fellow international student Thierno Bah from Guinea, West Africa also regularly watches UEFA games in Ragsdale.
"I like to follow my club Barcelona," Bah said. "I watch games in Rags because it's always better to watch with people. It's a great environment to discuss soccer with others."
Bah also believes Ragsdale is the best place to watch games on match day due to his school schedule. Like Drinkwater, he typically gathers in Ragsdale once a week, particularly when the Champions League is on.
"The Champions League has worldwide interest because of the amount of global brand names that compete within the competition," Drinkwater said. "Also the timings are a lot better than those of regular league matches so I try to watch as much as my schedule allows."
As we head further and further into the competition, only 16 of the finest European clubs remain, each one hoping to be crowned champion of Europe.
All four English teams still remain in the competition; however, Arsenal, Manchester City and Manchester United have big challenges ahead of them as they try and come back from 2-0 defeats in their first legs.
The two Spanish giants, Barcelona and Real Madrid, head into their games with comfortable away victories, and are both favorites to go all the way. Although no team has ever won back-to-back Champions League titles before, last year's champions Bayern Munich hope to break that tradition and relive their European title from 2012-2013.
The tough competition has led many to speculate on who will emerge victorious.
"I think Real Madrid will win it," Drinkwater said. "They're so strong going forward."
Bah however, is hoping his team, Barcelona, can go all the way after last year's shocking semi-final defeat.
"I hope Barcelona wins it. I think we can," said Bah. "We want revenge after Bayern beat us 7-0 last year."