St. Edward's student, family establish taco truck near campus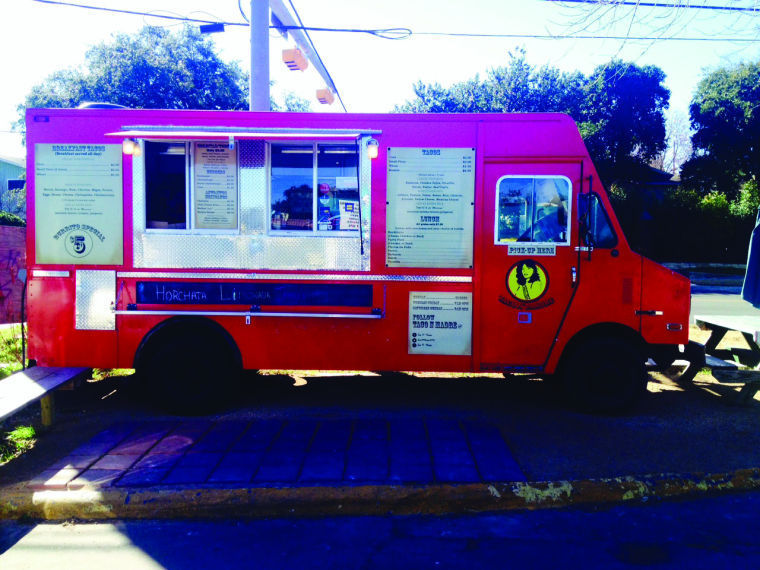 Online Editor-in-Chief
February 2, 2014
In Austin, there is adventure everywhere. Every weekend there is a festival and around every corner there are tacos served up by unnamed mystery trailers.
In a land of such opportunity, it is every Austinite's challenge to go out and pursue that adventure.
The following is a list of reasons why you should make your next seize-the-day Austin venture at a trailer in a gas station parking lot on East Oltorf.
First, this trailer actually has a name: Taco N' Madre. And the name, when translated into Spanish, does not mean "Taco and Mom." Even though Alberto and Yancy Vazquez did indeed start the food stand off Oltorf with their mother Elvia, Taco N' Madre is said to translate more roughly into "Badass Tacos."
It is a fitting name that speaks to both their tacos and their tenacity as a small business, having expanded from a wooden shack to the brand-new trailer they have now in just four years.
Second, despite the name, Taco N' Madre is all about Alberto and Yancy's mom. Their mother Elvia makes Taco N' Madre's sizable menu, from a number of salsas to the corn and flour tortillas. She does it as she has been doing it for her family her whole life: by hand, using local ingredients, including meat from local meat markets.
You will taste this in every part of the menu, from the make-it-yourself breakfast tacos (added to appeal to the Austin love affair with all-day breakfast) to the variety of taco, burrito and enchilada meat fillings, each seasoned, stewed or cooked under the careful hands of Elvia.
Thirdly, the son of Elvia, Alberto, who has been managing the business with his sister for the last three years, already loves you.
According to Vazquez, the vast majority of the people that come to Tacos N' Madre every day are repeat, loyal customers. He claims he knows about 90 percent of them by name and the individual orders of many of them. Every day, rain or shine, he greets them like family while his mom feeds them like they are.
Alberto is also a St. Edward's University student, currently in his third year as a business major. His goal upon graduation is to continue sharing his mother's cooking with the community with an expanded, brick-and-mortar location. His vision includes the picnic lounge vibe he sees as a valued part of Austin dining. A first priority is to find somewhere in the community so he can maintain ties to their loyal customers.
Fourth, as the Huddle loses itself, abandoning its identity as campus' nearest Tex-Mex place of worship, there will come a time when the hilltop will need to look elsewhere to practice their Mexican food faith.
A quick 15-minute walk away from East Hall, Taco N' Madre is more than a substitute. Their tacos are cheaper and they taste unlike anything you can find on campus. 
They taste like they are hand-made by a Mexican mom. And as already noted, they always are.