Men's soccer ends year without tournament play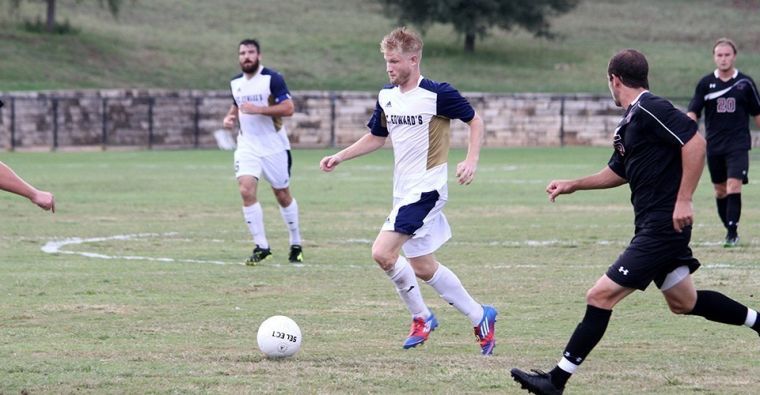 Staff Writer
November 13, 2013
The 2013 St. Edward's University men's soccer season has come to a close, as they did not qualify for the NCAA Tournament. Despite not qualifying, the Hilltoppers are the 2013 Heartland Conference Champions for the second straight year. They finished their regular season with a 12-3-2 record and an impressive 7-1-1 mark in conference play.
The Hilltoppers were favorites by many to win the conference before the season even began, and despite starting the year with a 0-1-1 record, the men went on an amazing eight game winning streak to become ranked as high as fourth in the nation by the NSCAA. They cooled down after that and quickly fell out of the poll, but were still good enough to become the co-conference champions with West Texas A&M in a difficult region.
In NCAA Division II, there are no automatic qualifying bids to the national championship tournament, meaning just because a team wins a conference does not necessarily mean they are selected to the national tournament. While 35 teams qualify, only three are selected from the region St. Edward's plays in. Every team has to prove to a selection committee that the are good enough to win it all.
Head coach Brian Young attributes this season's success to the hard work put in by all players, as well great leadership from the team's four seniors, Matt McLaughlin, Anderson McDaniel, Daniel Pena and keeper John Kaschak.
"They are a major reason why the program has been so good," said Young.
Before the season even began, the goal was to accomplish a conference title and then make the NCAA tournament. The first goal was accomplished through an incredible amount of hard work and leadership, and although the team has fallen short of the ultimate dream of winning a national title, they capped off a solid campaign with a 3-0 victory over rival St. Mary's on Sunday and are already making preparations for 2014.
"I am very proud of the players and the four graduating seniors on an excellent season," Young said. "The team will improve in the off-season to accomplish our pre-season goal of getting selected to the NCAA Tournament."
The Hilltoppers remain optimistic and have high expectations for next year, knowing exactly what they need to do earn a bid to the NCAA Tournament.
"Everyone, including the staff, is disappointed but we know next season we need to win one or two more games to get into the NCAA Tournament," Young said.