Men's soccer opens up season with disappointing two games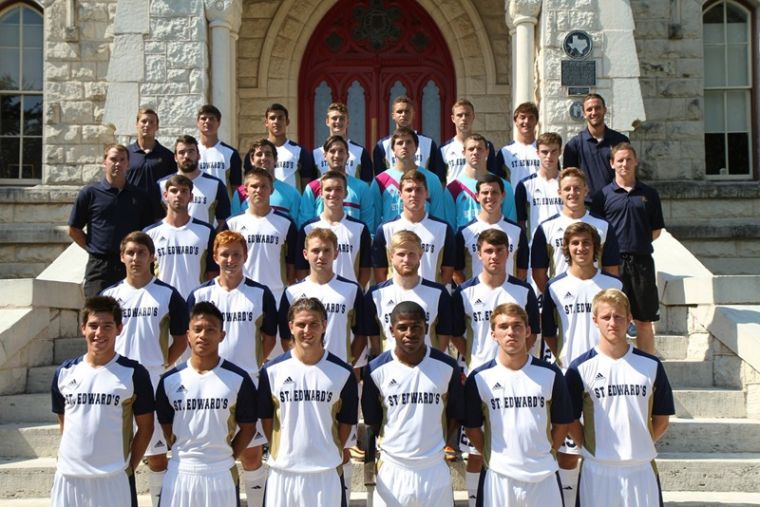 Reporter
September 10, 2013
The men's soccer team head into this season as the favorite by many to repeat as the Heartland Conference champions. In 2012 the Hilltoppers finished with a 12-3-3 record and were nationally ranked No. 24, and with this year's team receiving some votes in the preseason National Soccer Coaches Association of America top 25 poll, expectations are through the roof.
Everyone within the program is hopeful of continuing the success and dominance of last season's campaign, most specifically Head Coach Brian Young. Entering his tenth season as head coach of men's soccer, Young has relished every moment on the Hilltop, calling it "a wonderful place to work." During his tenure at St. Edward's, he's been selected as the Heartland Conference Coach of the Year twice and has won two conference championships.
"The expectation for our program is to always win the Heartland Championship," Young said, maintaining high standards for his squad. "We want to continue earning bids to the NCAA Tournament."
However, after the team's first two games this past week, punching their ticket to the NCAA Tournament might be easier said than done. The Hilltoppers lost Friday's season opener to Colorado School of Mines in heartbreaking fashion, conceding a goal with just under 10 minutes left in a 2-1 defeat. Things would get worse on Sunday as the men were up 3-2 against Fort Lewis and again conceded a late goal to their opponent, this time with just over a minute left. After a scoreless 20 minutes of extra time, the Hilltoppers were forced to settle for a 3-3 draw.
After the game, coach Young was visibly disappointed.
"We didn't perform as well as we wanted," Young said. "But we learned lessons from both games. These are really good early tests to learn from our mistakes."
If there's a silver lining to the disappointing results though, it's that the men got off to a slow start last year as well, losing their first two games only to overcome the mistakes Young mentioned and claim the Heartland Conference crown.
This year's squad though will have to cope with the loss of three seniors from last season, most notably defender Gavin Bruce, an All-American and Heartland Conference Player of the Year. "Bruce did a very good job leading from the back," said Young, speaking on the departure of his star man. But there is plenty of confidence in this year's backline to pick up the slack, a young but mature core consisting of two sophomores and a freshman.
This Friday the Hilltoppers look to bounce back as they head to Denver, Colorado to play Metro State and Regis University, where they hope the charge for another Heartland Conference title begins.