Women's soccer undefeated as Trapani makes her mark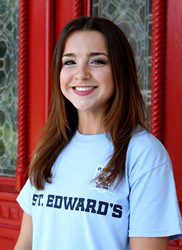 Staff Writer
September 23, 2013
Cailyn Trapani opened up the season by leading the St. Edward's University Women's Soccer team to a 6-0 victory over Southern Nazarene University. Trapani, a redshirt sophomore, notched a hat-trick during the match, scoring three of the Hilltoppers' goals in the win. In the women's second game against Texas Woman's University, Trapani contributed another goal in a 3-1 win.
But Trapani credits her early season form to fellow forwards, Rachel Murray and Lauren Heller.
"I couldn't have done it without them," Trapani said.
The business marketing major also discussed the delicate balance between school and soccer. "I've had to learn time management," said Trapani, "and that's why I go to the library, because I know there are no distractions there."
While she does not mind the daily early morning practices, Trapani does stress the importance of getting adequate sleep.
"I can't function unless I'm in bed by 10:00 pm," Trapani said.
After a series of injuries, Trapani was redshirted her sophomore year. But this did not seem to stunt her high level of performance, as seen in her first game back against SNU. Trapani was told she would not be able to play at the level she use to perform once she recovered from her injury, but Trapani is quickly disproving that theory.
When asked about her future in soccer, Trapani admits she is unsure of how many more years her body can take of the intensely physical sport. But she does not let this affect her love of the game.
The Houston native is hopeful for another stellar season for the program, and attributes its success to strong team chemistry and close friendships that developed off the field.
After the Hilltoppers' dramatic double overtime victory against Eastern New Mexico University, their record stands at 3-0-2. The next game is Saturday against Dallas Baptist University, followed by the highly anticipated Battle of the Saints match-up against rival St. Mary's University on Monday, Sept. 30.