President used leadership to found club sport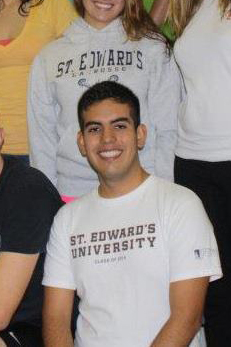 Sports Editor
April 23, 2013
Junior club swimming president Octavio Sanchez was recently elected to be Student Government Association, SGA, president for the 2013-2014 school year.
Shelby Cole: How long have you been in charge of club swimming?
Octavio Sanchez: My friend Curran and I founded the organization my freshman year. Then from 2011-2012 he was president, I was VP, and we switched roles this year. Next year, we're handing it off to a group of new students so they can continue the legacy.
SC: How long have you been involved with SGA?
OS: About the same time, I ran for senate in spring registration of 2011, was a senator for that next year, and of course this year, and come next year I'll be president of SGA.
SC: Does being in charge of swimming translate to your SGA role?
OS: In all honesty? Yes. Being the leader of club swimming obviously doesn't have such a broad impact as student government does, but managing the role, being able to delegate responsibilities to the other officers, making sure everything got taken care of, being the face of the organization, recruiting and stuff like that, it showed me a lot of managerial skills. I'm going to be able to translate that ability to run SGA and be the face of the student body.
SC: Are you going to use your time as president to help club sports out?
OS: Definitely will. I've talked to men's lacrosse and I've gotten some of their perspectives on things that they need some help with, of course with club swimming I have a good feeling about their needs, club rugby is continuing to grow and it's a big sport on campus. Hopefully, I'll be able to connect to my inner sports and connect in that aspect as well.
SC: How long have you been swimming?
OS: I started swimming in the summer of sixth grade. My best friend from middle school brought me to one of the practices to try it out. All I could do was float. That's all I knew how to do. One of the moms worked with me and my brother and taught us how to swim. Then I joined a summer league and then I swam in high school, junior varsity for three years and varsity my senior year.
SC: What do you like about swimming?
OS: I'm not good at all the other sports. When it comes to, like, baseball, I dont' think I could hit the ball, I'd miss it. I'd get strikes all the time. So swimming is like that one sport that I feel like I'm really good at. I might not be the best, but it's physically what I feel I'm the best at. It's a full-body exercise. I feel energized after. Instead of feeling drained and tired, I feel more energy.
SC: What is the private Octavio like?
OS: I'm a very shy person, especially when it comes to letting myself go.
SC: But you're in charge of everything!
OS: Sometimes I just can't be spontaneous. Like, what's it called, SOLO? FOLO? YOLO. So it would surprise a lot of people that I sing along to my favorite songs, especially when I'm alone in the car. Then, of course, when someone drives by, I turn it down and act normal.
SC: Andy Lemons told me to make you say nice things about club sports.
OC: Honestly, it is one of the best programs. It's a great place for people to stay active, live a well balanced life, and it continues growing. If you can't find what you want to do now, you can always start your own club, it's really easy.