Sanchez, Cimino win elections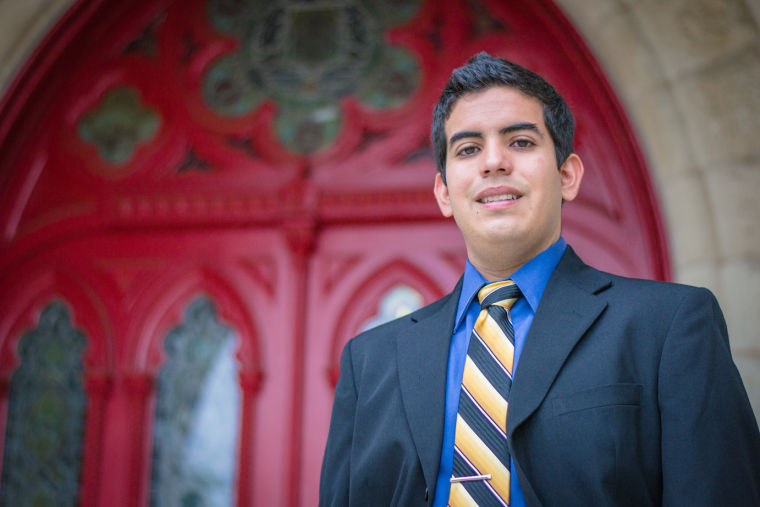 News Editor
April 24, 2013
The Student Government Association, SGA, elections have ended, and after a very close race, Octavio Sanchez and Michael Cimino will be the President and Vice President of the organization next year.
This election season, 708 students voted, which is an increase from last year's count of 672. Sanchez-Cimino received 373 votes while 335 students voted for the opposing ticket of Nicole Bradley running as president and Harrison Hadland running as vice president. Twelve students ran to fill 12 senate seats.
Sanchez and Cimino will occupy the vacant spots left by President Brady Faglie and Vice President Nairod Woods. Faglie and Woods state that their top accomplishments in their time at the association were increasing communication between the student body and administration and increasing school spirit. 
"I felt like we've accomplished a lot this year. First of all, we've established regular meetings with President Martin, something we haven't had in a while, and that was part of an effort to increase communication between the administration and the student body. That's been very important to us, because at the end of the day, that is our role, as student government," Faglie said. "We do have the power to influence. We do have the power to be in the right rooms with the right people. And if you know how to utilize that, you can get things done. I feel we've done that this year."
To raise school spirit, the SGA introduced several ideas this year that will be implemented as traditions, Woods said. Bradley and Hadland worked on a class ring initiative this year while Sanchez is working on an initiative to a light up the tower during major school events.
"The tower will be lit up blue for special events, such as homecoming and major sports victories," Woods said. "We can't do it for every basketball game. That wouldn't be feasible, but we'll be doing it for big games like Battle of the Saints."
Sanchez said that the tower is set for an initial launch for May 10, for graduation.
Faglie said that SGA events and initiatives have garnered record response from students like The Big Event, an annual community service event aimed at benefitting neighbors of the campus.
"We had one of the largest, if not the largest one, out of the nine years we've done it. We really pushed it and had close to 300 turn up. On a Saturday morning, mind you," Faglie said. "A lot of people were excited about it. We had a lot of participation. The number of people who followed through is one of the highest percentages in a decade."
There was also a survey that SGA promoted in order to find out which issues mattered most to students on campus. Faglie said that around 600 students answered this survey.
This philosophy of increased communication has inspired Sanchez and Cimino's campaign, Sanchez said. The two plan to continue reaching out to students and making SGA a more available organization.
"What we want students to know is that we're here to serve them and all their goals," Cimino said. "I'd like to make myself available one day of the week for an hour to talk to students one-on-one and say 'Hey, we're from SGA, how [can] we help better your school experience?' So, [we want] an SGA that's visible on campus, that students know is there as a tool to reach out to the administration."
To this end, the two are listening to ideas from students and collaborating with them on small projects.
"One student came up to us about putting up hammocks or a community box of blankets that students can use to lay out on sunny days. That's going to  enhance student experience on campus. On a beautiful day, what better thing is there to do than lay out on the sun and do homework or just chill with your friends?" Sanchez said. "We're going to leave our plate open to those little projects that students will appreciate and know that even though it may not be a big issue, It's something small that shows SGA is there for them."
Cimino has said he also plans to work on improving campus safety.
"Personally, I'd really like to work on campus safety. There's been attacks  on campus and I believe that it is our responsibility not only as a senate but as a school itself to work on protecting the students that go here," Cimino said.
Some of his solutions in this regard include improving camera quality in the parking lots, and getting more lights installed in the East Hall and Teresa Hall areas. He is also interested in a transportation service for students who need rides to and from downtown Austin.
Sanchez also plans to tackle big-ticket issues, such as parking, by handling them at a realistic level, he said.
"To move a mountain, you have to start little. These are going to be issues that are issues every single year. There's a way to address it without having to get nowhere, spend all your capital and get nothing done," Sanchez said.
The solution, Sanchez said, goes back to the SGA's mission of making sure the student body's concerns are properly relayed to the administration, which informs both parties.
"For example the library was something a lot of students were upset about. The administration did everything they could to announce it a year ahead of time.  Somewhere along the line, the students didn't hear about it. Some students missed out on that communication, and when the library closed, they got upset," Sanchez said. "They felt like they weren't being listened to, so what I want to do is fill in that little space right there."
As Faglie and Woods get ready to graduate, they leave behind reportedly record numbers of participation in SGA events and a philosophy that emphasizes face-to-face interaction with students. Sanchez and Cimino plan to build upon this foundation in their term.
"We want students to see us and not say, 'Hey, you're just a random student,'" Sanchez said. "We want them to say, 'Hey, you're my senator, you're my VP, you're my president. Let me talk to you about this issue.'"