Rising Stock: soccer player Anderson McDaniel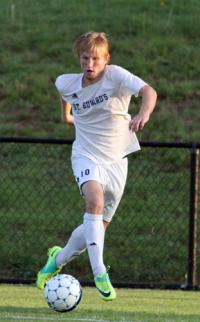 Reporter
September 18, 2012
After playing two soccer games as a Hilltopper and notching a goal against Colorado School of Mines, transfer junior Anderson McDaniel earned the Offensive Player of the Week Award for the Heartland Conference. McDaniel left the University of North Carolina Wilmington to be closer to home and to play soccer at a Division II university with long-time friend Gavin Bruce. McDaniel came to St. Edward's University for soccer, but there is more to number 10 than just an attacking forward.
Shelby Sementelli: You are often on campus wearing a fedora. How would you explain your fashion sense?
Anderson McDaniel: I cannot believe I got caught with the fedora. Well there is actually a story behind that. I am currently in the process of growing my hair out. In that process, I have to endure quite a long stage of hair-length awkwardness. During pre-season I was shopping at Macy's and the famed fedora was on sale at the counter as I was checking out for only $4.99. I am a sucker for a bargain deal and had extremely awkward hair-length at the time.
SS: Do you have any hobbies, interests or habits that most people would not expect?
AM: This summer I had an internship with Merrill Lynch, so it spiked my interests in the stock market and business world. This summer I moved into my first real apartment. I never knew this about myself, but I enjoy decorating my place. I spent a good portion of this summer making my room one of the coolest rooms in all of Austin. I also love to enjoy the outdoor sun on my balcony with a book. I'm currently reading "A Briefer History of Time." Everyone should check it out. I also like to jam out to some good tunes. Other than that, I am pretty boring, and I enjoy the company of my good friends and the great city of Austin.
SS: What does your pre-game ritual look like?
AM: Embarrassing to say, I am about as superstitious as athletes come and have too many rituals to count. For my pre-game environment, I am also a bit weird. I do not like pump up music or high intensity types of music. Usually you will catch me listening to the Beatles or The xx before a game to calm myself.
SS: What do you think of your team's performance so far this season?
AM: Since day one, I have really enjoyed my teammates and coaches at St. Edward's. They are all an extremely good and fun-loving group of people that all have a passion for soccer. We have a great time together in the locker room, on the field and off it as well, and good cohesive chemistry goes a long way in a college team. That's one of the strongest parts of our team. As far as on the field goes, we are doing quite well. We had two unfortunate losses against some highly ranked teams in Colorado, but we played well and had our chances to win the games. We just need to take the positives from it, carry those on to the next games and do better.
SS: What do you think of your performance so far this season and earning Heartland Conference Player of the Week?
AM: As far as receiving the honor of Player of the Week, I am very grateful and happy to earn it for St. Edward's and my team. Receiving it after playing only my first two St. Edward's games is very humbling. Hopefully, my team and I can continue to put the work in at practice and play well enough so that we all can earn honors throughout the season.