Students rally at capitol in solidarity with environmental lawsuit
The end of October marks the end of Environmental Justice Month at St. Edward's University. While the month may be over, the fight for climate awareness marches on as the campus is encouraged to "think globally and act locally."
    Last Sunday in Austin, the SEU Students for Sustainability took to the capital to stand in support of the historic #YouthVGov climate lawsuit. The movement spanned over 70 events occurring across 40 states, rallying at courthouses in solidarity for the Juliana v. U.S. trial. The rally was attended by many St. Edward's students, including a speech presented by SEU student Camila Rojas. Students held signs, made posters and made chants to "give science a day in court!"
   Juliana v. United States, the court case of #YouthVGov, is a constitutional climate lawsuit brought by 21 young Americans. They allege the U.S. government has knowingly been violating the constitutional rights of youth for over 50 years by systematically contributing to and aiding the process of climate change.
Students for sustainability hopes to support these students' efforts along with youth all across the country.
"The impacts are being seen more and more and are predicted to become worse — droughts, ocean acidification, ice caps melting, food shortages, water scarcity, extreme weather events," said Mary Knothe, SFS President.
The Supreme Court has placed a temporary pause on the start of this trial, but across the country rallies and demonstrations are being made to "let the youth be heard!" as signs at the rally exclaimed.
The efforts of the climate trial have become an even greater topic of discussion since the release of the 2018 Intergovernmental Panel on Climate Change Report. Based on this report, the international scientific community has made it clear that climate change is accelerating at an even faster rate than previously expected.
The IPCC is the leading world body for assessing the science related to climate change, its impacts and potential future risks, and possible response options for environmental issues. The 2018 report is composed of research made by more than 1,000 scientists and pools more than 6000 scientific publications together. The 700-page report discusses the impacts of global warming and researches the effects any increase in global temperature would have on the planet.
While taking to the government is a great way to help raise support for addressing environmental issues, SFS also hopes to to inspire young people to simply promote sustainable practices on campus and in their local community to take the most productive individual action possible for helping out the environment.
"Students should know that it's not as hard as it seems to be more sustainable. It's about small changes adding up. Bike more. Compost. Consume less. Eat less meat. Educate your peers. Be proactive," Knothe says. "Sustainability is more than just reduce, reuse, recycle. It is caring for our neighbors and thinking of our resources as everyone's, not just a select groups."
For students interested in getting more involved in the environmental movement city-wide, Knothe suggests, "voting for candidates who have plans to curb climate change like carbon tax are another way to address the issue. In Austin, the city government has plans to install renewable energy and this is something we should all be showing support for. There are many groups in the community that are working to fight climate change that we should all get more involved with."
About the Contributor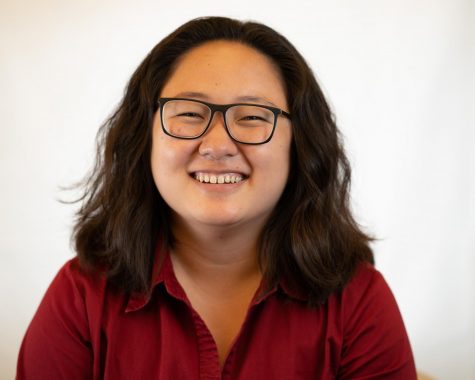 Lilli Hime, Staff Writer
I am Lilli Hime—English Writing and Rhetoric major and freelance writer at Hilltop Views. This is my senior year at St. Edward's University.

My role...