Learning in any situation: Lauren Louk reflects on her isolated senior year experience away from the Hilltop
It's needless to say the past two years on the Hilltop have not been the ideal experience seniors hoped for. Both classes of 2020 and 2021 spent their senior years away from friends, alone in their apartments or struggling to share wi-fi with their families at home. Senior Lauren Louk, who will graduate May 2021 in a socially-distanced ceremony, shared her experience and advice on remote learning and internships. 
Business administration major and communications minor Louk felt she had a leg up in remote learning. While this type of learning is not her favorite, she was grateful to have previously-established relationships with her professors as she took their classes these past semesters. However, remote learning hasn't been all that exceptional.
"It has been hard. It was difficult when professors didn't adjust the requirements of group projects, like expectations and deadlines, especially when you had one or more people who were in different time zones or different countries," Louk said. "It's not what I wanted to spend my last year of school doing."
Like many Hilltoppers, Louk misses a handful of the perks of being on campus. From the people to the events, things just aren't the same. 
"I miss walking in between classes and seeing how many people I know. I miss Jo's. I miss sitting outside under the trees near the bookstore. I always sat there. And I miss the events on campus, seeing Expo on Rags and buying a pair of earrings from a booth," Louk said. 
Aside from the shift to online learning and the absence of little things that make big differences in students' days, work life has been drastically different for Louk. Prior to COVID-19, Louk held in-person internships as a marketing intern at Communities in Schools of Central Texas and digital agency Adlucent. She experienced the shift from working at an office at Adlucent to switching online. Knowing her advisors and coworkers at Adlucent during the shift made the process less nerve racking. However, the process has been anything but normal at her current internship with software service company Cognite, which she landed in August 2020. 
"It was three rounds of remote interviews. It was an experience in and of itself.
It was weird," Louk said. "I met my boss for the first time in person this week. I appreciate how open the company was to teaching me how I needed to be taught. I learn better in person, like being able to shadow someone on the job. People were so willing to jump on board to answer [my] questions." 
While the transition to a remote internship was not ideal to Louk, she appreciates the lessons she learned from it and the ways in which remote learning at St. Edward's prepared her for her work. Tasks like sharing presentations on Zoom in the virtual classroom prepared Louk for narrating presentations in front of the company. 
"I think it helped me be a better employee. It taught me to adapt and work on the spot and teach myself. I was not only learning the software but the oil and gas industry that we serve," Louk said. "My advice for anyone: don't be scared of taking a remote internship. It's different and you learn differently and it doesn't mean you're not learning as much. I don't prefer one more than the other. [In] an internship, your job is to learn and you can do that in person and remote. You just have to do it differently for it to be effective both ways."
Recently, Louk attended the small, socially-distanced University Ring Ceremony on Sunday, March 21. The traditional event was the first graduation-related event she attended.
"My mom got to come, but it also felt weird because we were six-feet away. We were separated. I couldn't give my classmates hugs, no high-fives. It was kind of quiet," Louk said. "There was a little Power Point, [we] said a prayer and went to [Sorin Oak]. I am super grateful we got to do that, though."
The nation has been in lockdown for over a year. It's affected families, businesses, health and schools. Louk has drawn lessons from each and every experience throughout her final year, and although it was far from normal, her senior year will remain a memorable one. 
Leave a Comment
About the Contributor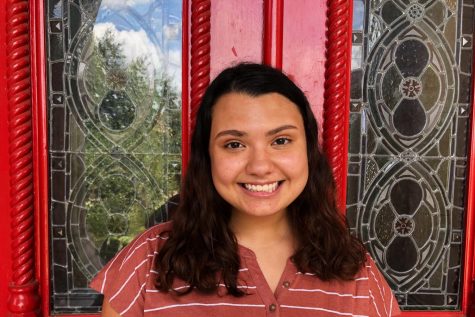 Nina Martinez, Editor-in-Chief
Hey y'all! My name is Nina Martinez, I'm a junior Writing & Rhetoric major with a concentration in Journalism. I aspire to one day edit for The Atlantic...