Basketball on losing streak, falling in standings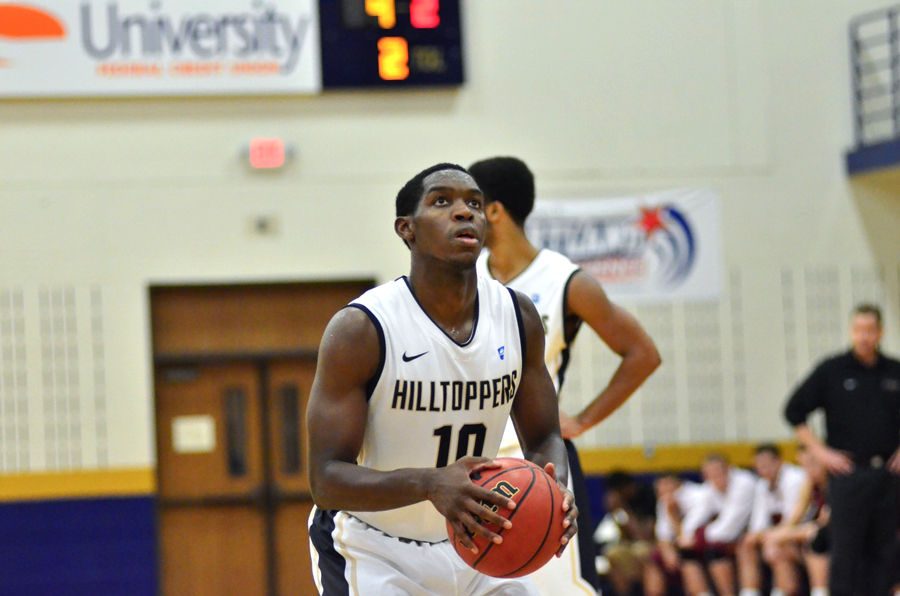 Online Editor-in-Chief
February 9, 2015
With five seconds left in overtime, Shannon Lilly of Dallas Baptist University made two free throws that won Dallas the game against St. Edward's University. The 94-92 home loss Saturday extends the Hilltoppers losing streak to four.
Frankie Mgbolu of St. Edward's drove the ball down the court at the end of overtime to try to even the score, but his lay up basket was called by the referees for traveling. Mgbolu led the team with 28 points, including six in overtime.
"I didn't think I traveled, but they called it," Mgbolu said. 
Mgbolu beleives his team should have made more plays.
"At the end of the day we just didn't make enough plays," he said.
With the fourth straight loss of the season, fifth of their last seven games, the team record stands at 16-6, and a Heartland Conference record of 8-6. They are currently fourth in the conference standings, falling three spots during their losing streak. The team was picked to finish ninth in the conference in a preseason poll.
Andre Cook, men's head basketball coach, says his team hasn't been the same in recent games.
"The team that showed up in the second half, that's the team that got us to 16-2.  That team hasn't shown up for three and a half games," Cook said.
Lilly scored a total of 22 points for Dallas (13-8, 7-6 in Heartland Conference), including the winning free throws. Myles Johnson led Dallas with a total of 29 points.
St. Edward's had a slow first half, trailing by 10 points at halftime. Dallas kept their lead in the second half up until the last minute, when the teams tied. With a score of 81-81, Lilly held the ball until there were 9 seconds on the clock and missed a three-point attempt to win it for Dallas.
This is the second time this year these two teams went to overtime to decide a game. St. Edward's won in overtime at Dallas' home court earlier in the season. Cook hopes his team will get back on track and make the necessary adjustments to qualify for the conference tournament at the end of the season.
"They (players) won't point fingers … What they will do is what they've done all year, is get together and figure it out," Cook said.