Language barriers not problematic for some in Angers program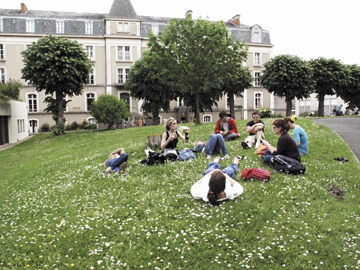 Reporter
November 28, 2012
While there is no French language prerequisite for students to participate in the study abroad programs in Angers, France, students and faculty said language barriers were largely a non-issue in their experience.
Although students are not required to take a language before studying abroad in Angers, all students take French language classes during the program, whether for the summer or for a semester at the Catholic University of the West, UCO.
The summer program differs from semester-long programs in that any student may study in Angers with no previous background in French. Students studying in the fall or spring semesters are required to at least take French I while living and studying in Angers. 
Since 2010, three students from St. Edward's University have participated in the semester-long exchange program, meaning they were enrolled at the host university taking courses alongside UCO students. More students study abroad in Angers through faculty-led programs that enables participants to take classes taught by St. Edward's professors with a group of fellow Hilltoppers.
"Although it was harder to understand the locals, many people in our group were familiar with the language," senior Missy Christman said. 
Christman studied in Angers last summer without any previous formal French language instruction.
"It may be considered rude to the locals if you don't speak French, but I got to learn about the French culture while taking a CULF class and visiting local markets," Christman said.
William Nichols, a global studies professor, has taught courses in Sevilla, Spain each semester since 2005. Because of his experience living in other countries, he was asked to help lead the program in Angers during the fall semester of 2009. Though fluent in Spanish, Nichols does not speak French.
"Of course the more language you have, the more you are able to interact. I'd apologize for not speaking French and they'd apologize for not speaking English," Nichols said of his interaction with people in Angers.
Nichols believes that because Angers is a smaller city, the locals may be more forgiving of foreigners who do not speak French.
"We do not want to create barriers for students to study abroad in Angers," Nichols said.
Avoiding barriers is the reason for the absence of a French language requirement said Esmeralda Hoang, an international education coordinator for the Office of International Education.
"We want to give the opportunity to any student. We don't want to hinder the possibility for a student to experience studying abroad," Hoang said.
Hoang also believes that by studying in another country, a student can learn the language much more quickly.
Taelor Russel, a global studies major, resided in apartments while living in Angers. Russell experienced the French way of life by immersing herself in the culture with other French and bilingual students.
"I don't feel like I was cheated because I'm not fluent in French," Russell said.
For more information on studying in Angers, visit the Office of International Education.