Weekly SGA senate brief: March 22, 2023
Here's what happened at the Student Government Association's formal senate meeting on March 23:
President Fuentes joined the senate to deliver a "State of the University" address. In her address Fuentes:
Reviewed recent university events and accomplishments including: 
– The recognition of Feb. 9 as St. Edward's Day by the Texas House and Senate; 
– The awarded grant of $2.1 million from the Hector and Gloria Lopez Foundation to enhance social mobility of first-generation Latino students;
– The recent Association to Advance Collegiate Schools of Business (AASCB) accreditation;
– The first nursing program cohort that will begin in Fall 2023;
– The awarded grant from the National Science Foundation of $1.5 million for STEM scholarships.
Highlighted the following student successes:
– Aurora Miranda '23: Accepted into nine PhD Chemistry programs for Fall 2023;
– Ethan Tobias '23: Received 2022 Air Aware Student Leadership Award by Air Central Texas;
– Matilda Soric '23: San Antonio Spurs sports analytics internship;
– Marc Paz '24: 22-23 fellowship with Austin FC and the recipient of a $7,500 scholarship;
– Nicolas Avalos '24 & Manuel Salazar '24: Internships in the OIT Student Ambassador program;
– Hailey Green '24: Legislative fellowship in Lt. Gov. Dan Patrick's office.
Identified the following Fulbright scholar semifinalists:
Nic Carillo, Tomaz Diaz, Chloe Seminet, Marisa Davis, Lorelai Wilson, Kathryn Brouillette, Nina Martinez, Ella Ochoa, Juliette Pena and August Railey.
Further, Fuentes…
– Reviewed the university's commitment to shared governance practices;
– Emphasized the university's efforts to increase student diversity;
– Reviewed retention and graduation rates of CAMP students and first-gen students;
– Demonstrated St. Edward's higher graduation rates compared to other universities in Texas;
– Compared post-graduate earnings with other universities, showing similar results;
– Shared university enrollment, budget, revenue and expenses for fiscal year 2023;
– Revealed that the university will not be pursuing an agreement to lease the acres of land at the end of campus (next to I-35) with a third party;Reviewed year one priorities of Strategic Plan 2027, and outlined the year two plans that will follow;Detailed a vision for graduate programs that includes exploring 4 + 1 degree options, developing relationships with the local community, and increasing flexibility with select programs.
The senate had no new business, and concluded at 7:57 with a final roll call.
Leave a Comment
About the Contributor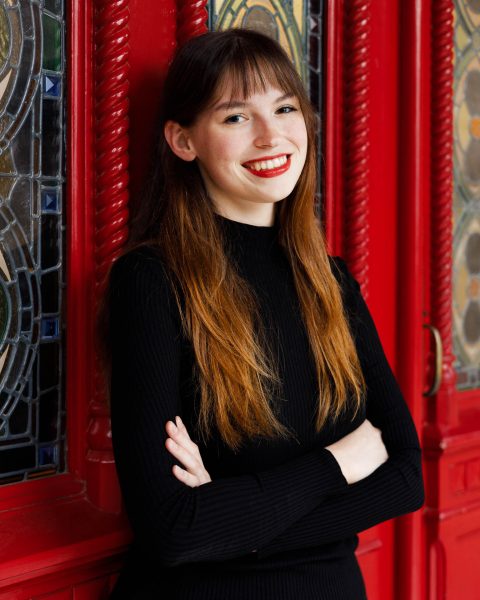 Chloe Almendarez, Managing Editor
Chloe Almendarez is a senior Psychology major with a minor in Education Studies. This is their second year working with "Hilltop Views" as Managing Editor....