Stormy weather cleared just in time for an intense battle between the St. Edward's men's soccer team and the University of St. Thomas Celts on Sept. 16.Hilltoppers scored their first two goals of the season, ending the game on a 2-2 draw. 
The Hilltoppers were aggressive from the very beginning, pressuring  St. Thomas' defense. During the first five minutes, the crowd was already screaming in support over a very close shot by junior midfielder Jommar Reyes. His shot ricocheted from the left goalpost, going back into Hilltoppers possession.
Intense ball disputes occurred in the first 15 minutes, with goal attempts from both teams. Graduate student and goalkeeper Kellen Gullion redirected several shots made by the Celts. Sophomore midfielder Shunji Watanabe and freshman striker Bartek Zabek were both unsuccessful in their attempts in the first half.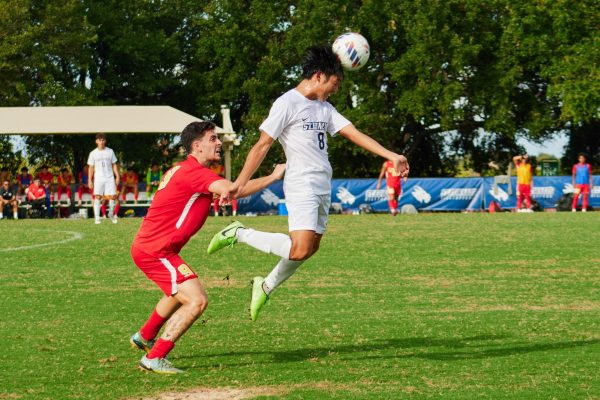 At the 20-minute mark, the Celts sent the ball over Gullion's hands, meeting the back of the net with an impressive header. 
After a few more attempts from the Hilltoppers over several runs up their attacking field, freshman striker Hunter Merritt's precise pass met junior midfielder Carlos Huato, whose powerful kick made the net shake and the crowd rise in excitement. 
"We were coming from two losses in the past two weeks so it's something that we definitely had to bounce back and learn from, it felt good to finally put a goal in the back of the net," Huato said. 
Back for the second half, several yellow cards were given out to both teams. Possession was controlled by the Hilltoppers, who were able to keep the ball on their attacking field, creating several opportunities. 
With 20 minutes left in the game, St. Thomas had the lead once again, scoring a goal in between two Hilltopper defenders.
Screams of encouragement and frustration came from the stands, with Celts and Hilltoppers fans alike holding onto their seats. Freshman striker Jethro Vourjolo subbed in, coming in from the bench with a powerful run. He saw an opportunity with an empty net, scoring an equalizing goal with five minutes left. The players ran in celebration, hugging Vourjolo as Hilltopper fans clapped and cheered in joy. 
The game ended on a 2-2 draw after three intense final minutes, with several stops, free kicks and fouls. 
"We were down 2-1 but the guys battled back and I'm proud of their effort," head coach Brian Young said. "This is a good mental image for us to be prepared for when we go down to Laredo on Wednesday."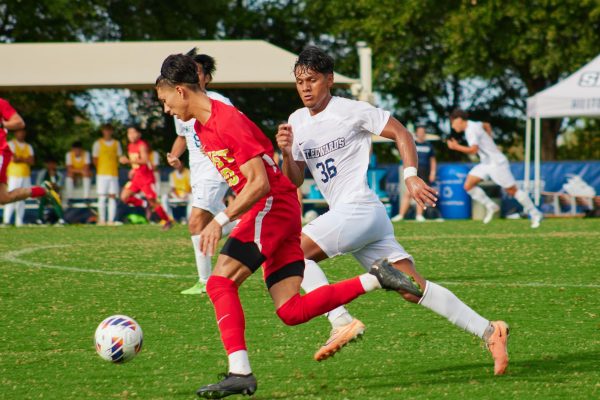 St. Edward's men's soccer team goes on a trip to Laredo, Texas, on Sept. 20, to face Texas A&M International. Lone Star Conference games start on Oct. 4, despite International being a Conference opponent.