St. Edward's men's soccer team fell short 2-1 to the St. Mary's Rattlers in a well-played Battle of the Saints under the Texas heat on Sept. 23.
Possession was even throughout the entire game, with the Hilltoppers having seven goal attempts in the first half, but St. Mary's needed only one out of their two attempts to take the lead. 17 minutes into the first half, the Rattlers scored their first goal over graduate student and goalkeeper Kellen Gullion's dive.
With six minutes left, the Hilltoppers answered with a free kick equalizer. With a steal, graduate midfielder Todd Fuller managed to have the Rattlers get a foul, setting the kick for sophomore midfielder Shunji Watanabe. His shot bounced off the foot of a St. Mary's defender, making the net shake and Hilltopper fans clap in unison. 
"They did the things we wanted them to do defensively, it was a pretty even contest, I feel like we created some really good chances," Head Coach Brian Young said.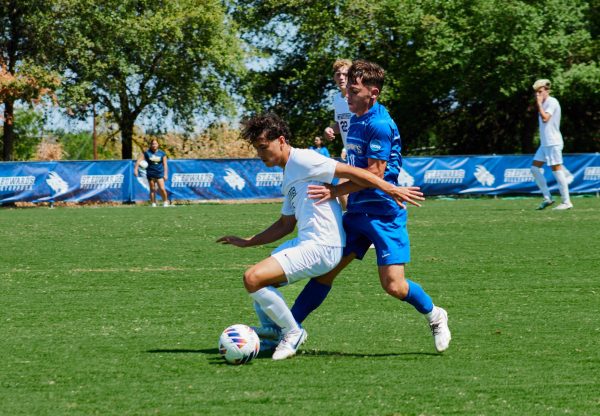 Quick runs up the attacking field were made at the start of the second half, especially when Hilltopper freshman striker Jethro Vourjolo subbed in. The striker alone created three chances, with two shots on goal, but his solo runs and precise crosses over the box were not enough to capitalize on the opportunities. 
The Rattlers hit the game-winning goal 20 minutes into the second half with another free kick. 
The final minutes were filled with adrenaline; both teams creating opportunities from the box, but the goalkeepers put on a defensive show on both ends, blocking every attempt. 
"Our goal as a staff and a team is just to move everything forward," Young said. "Continue to improve with each game and each training session."
St. Edward's men's soccer team hosts West Texas A&M on Sept. 27. It is the last Conference opponent the team will face before the Conference officially starts on Oct. 4.