St. Edward's carried out Homecoming weekend with a variety of festivities, including goat yoga, tailgating and its third annual homecoming parade. 
The homecoming parade, while a new tradition, has become an important demonstration and celebration of St. Edward's diverse campus life, with 33 groups of St. Edwards students and faculty representing our school's different sports teams, organizations, departments and programs.
"I think it's a great showcase of our school pride and vibrant community," Student Government Association President Ethan Tobias said. "I loved seeing all the different organizations. I've been a student since the first year of the parade, and each year we have elevated that experience. (I'm) looking forward to see(ing) what the parade looks like next year. I hope more organizations become a part of this new tradition."
This year, St. Edward's celebrates the reintroduction of our men's varsity soccer team, which played against Lubbock Christian University later that afternoon.
Our school spirit also extends beyond our sports teams. Cassidy Byars and Maria Rodriguez, members of Forensic Association Committed to Truth (FACT), are just two of dozens of students who decided to represent their student organizations by signing up to be a part of the homecoming parade during the first six weeks of fall semester.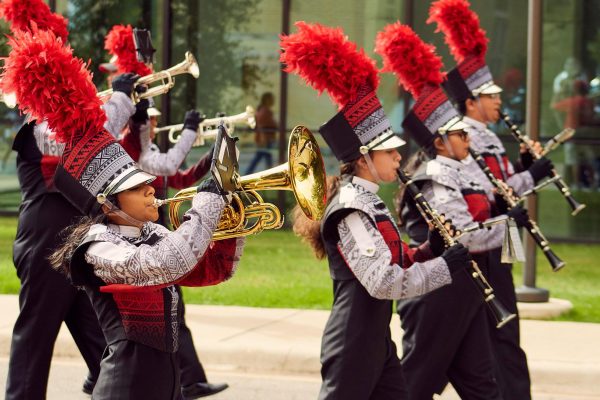 "It's definitely important for exposure," Byars said. "Making sure the campus-wide community knows about the organization so that they know there is one available, especially if they have an interest in forensic science they can seek it out."
Participating in the parade was not only a way for student organizations to gather interest.
"It's also a way for us to show our SEU pride and spirit," Rodriguez said.
Homecoming events like the parade also provide an opportunity for community building across campus with many of the organizations working to prepare for the parade in advance, creating banners and signs, practicing cheers and dances to perform, ultimately coming together to create a fun event. In addition to signs and banners with footprint motifs, FACT constructed shoe costumes for a few members to wear.  
"It was a lot of work and long nights but it was fun," Rodriguez said. "And it all goes back to team bonding, we all got to hang out and work on it together" 
SEU pride is also about the accomplishments of the school and its students. This homecoming season also celebrates 20 years of the McNair Scholars Program, a program that helps low income and first generation undergraduate students prepare for graduate school. Several students and faculty, including Dr. Molly Minus, director of the McNair Scholars Program, participated in the parade. One student wore an astronaut costume to honor Ronald E. McNair, whom the program was named after. The celebration of the McNair Scholars Program serves as a reminder of the continued growth and success of St. Edward's University.