Women's basketball welcomes Aussie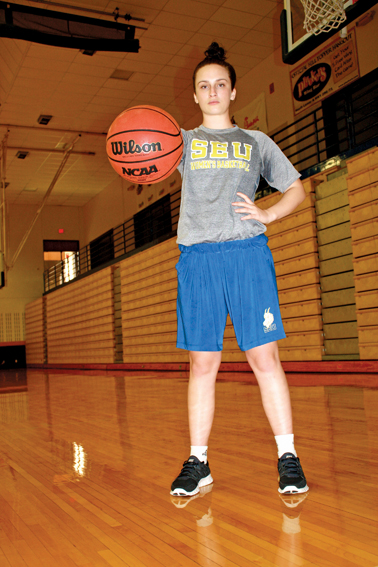 Reporter
September 25, 2012
Peri Erwin, one of the newest recruits to the women's basketball team, brings her basketball prowess to the Hilltop all the way from Australia.
What year are you in school?
I'm a freshman.
Where are you from?
I'm from Brisbane, Australia.
What are the differences in attending school in the U.S. vs. Australia?
Over here, more people are expected to go to college as opposed to Australia, where people are more common to go straight into the workforce after high school. Also, the standardized tests, learning material and grading scales are also a huge difference.
What position do you play?
I play point guard and shooting guard.
How long have you been playing basketball?
I have been playing for 12 years.
Did you play for a club team?
I played for many teams like Logan Thunder and Southern District, but most recently this summer I played for the Brisbane Capitols during the QBL season, which is a women's semi-pro team in Australia.
Do you have a famous basketball player you look up to?
Kristen Veal. She's a close family friend who played for the WNBA in 2006 and now plays for WNBL Logan Thunder in Australia.
Do you have any pregame rituals or superstitions?
Yes. Starting two years ago, I dedicate each game to one of my friends by doing a particular routine on the court, and I always make sure I put my left sock on before my right.
What is your favorite part about being a student-athlete at St. Edward's University?
I really like how most of the athletes have a bond and are all pretty friendly with one another, so I have met some pretty cool people so far.
What is your favorite book?
"The Perks of Being a Wallflower" by Stephen Chbosky, and I'm excited to see the movie that is coming out in theaters.
If you could have any superpower, what would you want it to be?
I would want to be Violet from "The Incredibles" so I could make a bubble to protect people around me.
Who is the most influential person in your life?
My family because they have always supported me no matter what.
What is your favorite song right now?
Tugboat by Galaxie 500.