Democratic congressional hopefuls discuss 2020 game plan, bridging partisan gap
Heading into next year's House of Representatives elections on Nov. 3, the Republican Party holds 23 of the 36 congressional seats in Texas — over 60%. Democratic candidates want to change this. 
On Sept. 27, the Texas Tribune Festival hosted "The Democratic Do-Over," a panel moderated by the Tribune's Washington Bureau Chief, Abby Livingston. The panel featured Texas democratic congressional candidates Wendy Davis, D-21; Sri Kulkarni, D-22; Gina Ortiz Jones, D-23 and Kim Olson, D-24. Although all of the candidates were unsuccessful their first time running, they are looking to secure the 2020 vote.
The four hopefuls aim to knock their districts' Republican incumbents out of office. Their plan? Register more voters and get them to the polls. As of 2018, Texas has one of the lowest voter turnout rates in the country at 46.3%.
"We can flip this state," said Kulkarni, who has the largest district by population in the U.S. "If we flip Texas, we flip the country."
Staying focused, being dynamic and evading conventional political wisdom is on the candidates' to-do lists. Olson, who earned a record 3.8 million votes when she ran for Texas Agriculture Commissioner in 2018, is no stranger to this.
"I visited 244 counties and chased Beto's ass all over the state," she said. "When you sit at people's family dinner tables, visit their farms and walk their fields, you find that we're more alike than we are different, that they worry about the same things we worry about."
Olson also has a large task at hand, as her district contains six of the nine seats needed to turn the Texas house blue.
"I would consider myself unsuccessful if I win the congressional race and not bring those house seats across the finish line," she said. 
An unexpected priority discussed among panelists was working with Republicans. 
"What's happening right now has nothing to do with right or left. It's not about the democratic or republican politics, it's about right or wrong," Kulkarni said. "It's not just about defeating the other side, because even if we win, we're still divided. We have to be willing to reach across the aisle."
Davis shares the same sentiment. She has worked on over 100 bills that she has either authored, or co-authored with Republican Party members.
"I still hold an idealism about it [working together] despite how hard it is and I want to be a part of helping to heal," she said. 
Panelists discussed "The Beto Effect," a phrase coined following Beto O'Rourke's 2018 senate race bid. It is the idea that O'Rourke's unprecedented campaign traction caused a down-ballot effect, subsequently increasing democratic support. The panelists believe that such traction can be replicated, and even improved in 2020. 
"The demographics have fundamentally changed within most of our districts. 500 people move into Texas every single day and 400 of them bring progressive ideas," Olson said. "We still have surge capacity left." She believes that dedicated voter groundwork is what launched O'Rourke to record-breaking numbers. 
Davis said the results of the 2016 election bolstered the determination of democratic voters, which activated organizations to fight for representation at the grassroots level all over the state. 
"People are upset that their voices are not being reflected in the conversations that they see happening in Washington," she said. "They [the Republican Party] have failed the people they represent and we are not going to fail them."
Ortiz Jones agrees, as she stated that she wants to protect organizations like Battleground Texas, Texas Organizing Project and Jolt. As a self-described "first generation lesbian veteran," Ortiz Jones feels that her lived experiences have shaped her views on serving. 
In light of the impeachment inquiry against President Trump, comments on the allegations were unavoidable. All candidates said they support the inquiry and promote further investigation. 
"We are facing a crisis of our constitution right now," Davis said. "If we aren't up to rising to this moment and fighting for our constitutional values, then why are we here? So I absolutely, 100% support this inquiry."
While Livingston refrained from the big question, an audience member did not, asking who the candidates' democratic primary endorsements are. No clear answer was given. Olson opted for "Anybody that'll beat Donald Trump," and Kulkarni referenced a bumper sticker he once saw with the words, "Any decent human being 2020." Ortiz Jones and Davis are proud to see Texans in the race, but are still undecided.
Overall, — national politics aside — the candidates prioritize the well-being of their constituents and hope to uplift their communities with a 2020 victory. 
"We're Texans," Olson said. "We know how to make our own decisions. We know how to listen to who's in front of us running for whatever office. Yes, we take in some of the national dialogue, but for the most part we care about what goes on in our own backyards." 
Leave a Comment
About the Contributor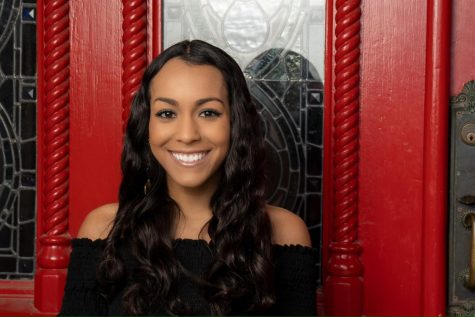 Gianni Zorrilla, Editor-in-Chief
Hey everyone! My name is Gianni Zorrilla. I study communication and journalism and digital media here at St. Edward's and am one of the Editors-in-Chief...