The St. Edward's rugby football club secured a 67-0 win against the University of Texas at Dallas' rugby club at the Lewis-Chen family field on Nov. 11.
Despite having played five games prior, this would be the team's first true home game. This is because the other matches played in Austin, such as their previous Homecoming game, have been at the local Huns Rugby Ranch.
In spite of the 61 degree high, Hilltoppers came out to watch the rugby teams kick off at noon. Families and students alike gathered in the bleachers in anticipation.
"I came out to support my friends on the rugby team, and how could you not with the energy they bring," freshman Mason Moore said.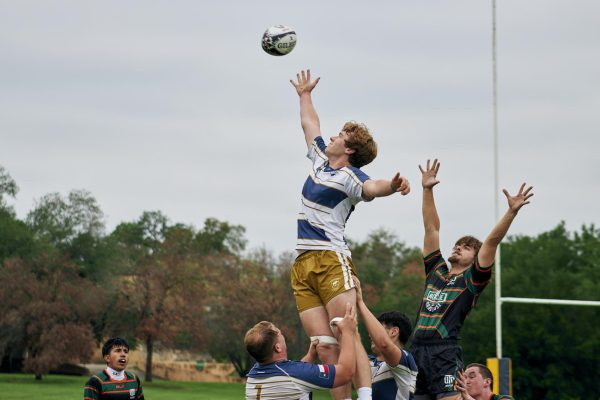 The match, which is divided into two 40-minute halves with a 10-minute halftime, began with the Hilltoppers pushing the ball to gain ground towards the end zone. A process that was fraught with the teams driving the ball out of bounds. This resulted in several lineouts, which is when the teams lift up players in the hopes of them catching the ball. 
Still, St. Edward's managed to keep the ball away from UTD and finished the first half  leading 46-0.
During halftime, other club teams, including rugby, held a small involvement exposition in front of the grotto. Sports like soccer, climbing, rowing, lacrosse and the new polo team lined up to hopefully gain new members. 
The second half resumed and the teams switched sides, but the Hilltoppers maintained the lead. Within the first 20 minutes, the Hilltoppers had already made three tries, a 5-point touchdown and conversions. Due to the UTD team having several injuries and St. Ed's maintaining a sizable lead, the tries and conversions made after the 60-minute mark were not counted. Ironically, UTD began to be more aggressive and gained control of the ball after this. Although they never gained a try, they were close at moments, making the final 20 minutes of the match incredibly entertaining for the fans. 
"Towards the end I began to have some fun," SEU scrum-half William Perrins said. "I am excited for what comes up next if we make playoffs next semester."
The match ended with both teams thanking the viewing fans and shaking hands. The completion of the match brought St. Edward's season record to 5-1-0.