Junior Remigio Vitores has been playing rugby for 13 years. When he first came to the hilltop as an international freshman, he did not know a St. Edward's University rugby club existed. As soon as he found out about it at an involvement fair, he joined.
"I'm in love with the sport," Vitores said. "I think it creates a culture that is just magnificent and anyone that joins that culture never leaves."
Vitores is the newest captain of the Rugby Football Club, his first major role in the team. The team has been trying to recruit new players and rebuild since a large part of the team is about to graduate this year. To Vitores, being captain means focusing on what's to come. 
"We are trying to think of the future right now," he said. "We want St. Edward's rugby to be back at the top. I'm really excited to be captain this year."
Unlike Vitores, sophomore Eli Perkins, the new president of the club, has a recent history with the sport. But prior to coming to college, he had never played rugby. 
"Some of my friends played in college and they brought a ball out so we could play, and that was it for me," Perkins said. "I met someone in one of my classes who invited me to join the team, so I did. I did not like it at first but the social aspect of the team is what made me stay."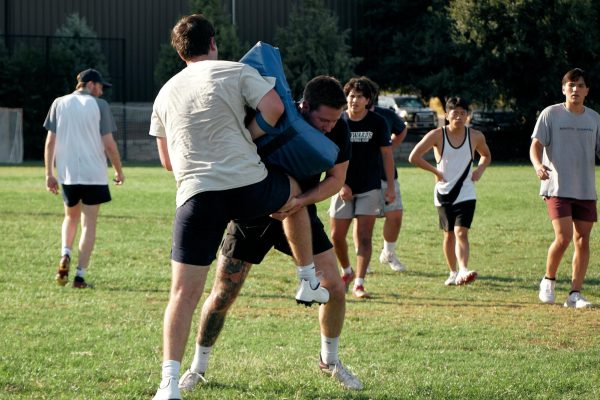 For the new club officers, community is the center of everything. 
"Rugby is a people's game," Vitores said. "Once you join the club you are going to realize it is a place where you can make friends, it's the perfect way to enter a community where you're going to build a family and meet brothers for life."
Vitores and Perkins unite to bring the team to a new level: finals. 
"We made it back to the playoffs last year for the first time in five years, and now my goal is to get to the finals," Vitores said.
The president and captain have other goals such as being more involved in the campus community and bringing more people into the sport. 
"We are trying to be more involved on campus," Vitores said. "We have been to programs like Redefining Me(n), where we try to improve our approach towards people on campus so that everyone can feel welcomed. That is what rugby is about."
Despite their many goals, there are also a few challenges that Vitores and Perkins need to tackle, especially when it comes to funding. Since it is a student-led club sport, it does not have the same access to funding as varsity teams. 
"We are trying to get more sponsors and organize fundraising events," Vitores said. 
Working on and off the field through hosting events to get necessary funding to keep the team afloat gives the officers a large sense of pride and accomplishment. 
"We are one of the only teams that are student-led, so winning is a pretty big deal because we got there ourselves," Perkins said. 
This season, the team will play seven games – four home and three away – the first one being away against Angelo State University on Sept. 16. Their first home game will be on Sept. 23 against Texas A&M – Corpus Christi.